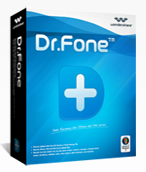 Wondershare's Dr. Fone for Android supplies the very best data protection and recovery functionality across a wide range of devices. Over 6000 Android devices are supported by Dr. Fone, making it a truly versatile recovery platform.
Deleted messages, contacts, media and more are all easily recoverable, through Dr.Fone's fantastic features. A preview of your data is even provided prior to recovery!
Over 550 formats are covered by Dr. Fone, all fully recoverable from deletion or even a system crash.
Dr.Fone for Android Makes It Easy to Recover:
Deleted / Corrupt Text Messages
Deleted / Corrupt Contacts
Deleted / Corrupt Photos & Videos
Deleted / Corrupt Whatsapp Messages
Lost Call History
Data lost through Flashing or Software Upgrades
Dr.Fone Supports All Devices & Manufacturers including:
Samsung
HTC
LG
Sony
Motorola
ZFT
Huawei
In actual fact the only requirement for use is that your Android device needs to be rooted. Any Android device that you can root you can recover from! All software versions are compatible with Dr.Fone Android, it is a truly a total recovery platform.
Click Here for Dr.Fone Android Version!
Just 3 Easy Steps to Rescue Your Data!
The sooner you begin recovery of last data, the better your chances of a full restoration are. Dr. Fone for Android recovers data by means of its desktop based recovery tool. To restore lost files and all other data, simply follow these three simple steps:
1 – Install Dr.Fone on your Desktop & Connect your Device
Dr. Fone for Android runs on all Windows Operating Systems, including Windows 10. Apple Mac is also supported. Download and install Dr. Fone, following the prompts and proceed to connect your Android device via USB.
Please note that prior to connection to your PC, your Android device needs to have USB Debugging Mode Enabled. Enabling this developer function is easy:
Android 2.3 – Navigate to "Settings", then "Applications", then "Development" and enable "USB Debugging"
Android 3.0 to 4 – Navigate to "Settings", then "Developer Options" and enable "USB Debugging"
Android 4.2+ – Navigate to "Settings", then "About Phone" and tap "Build Number" seven times to reveal the hidden option for "USB Debugging". Enable it.
2 – Register & Scan for Lost Files
Dr. Fone needs to be registered before recovery functions are unlocked. Prior to registration you can scan and preview prospective data to be restored. Select the media type to be recovered, scan, register and once registration is complete you are ready for recovery!
3 – Recover!
Your selection of data for recovery will begin to be recovered. This process usually takes under ten minutes, although larger volumes of storage may result in longer recovery times. Your data will be saved to a location of your choice, ready to view!
The Best Data Recovery Around
Dr. Fone is one of the most useful recovery apps around thanks to its ability to recover almost anything. This in combination with its wide compatibility spectrum and its lightning quick operation make this the definitive choice of Android data recovery software.
Click Here for Dr.Fone Android Version!