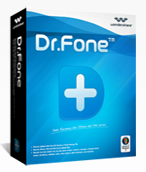 Have you ever picked up your phone only to be in shock and horror when finding all your contacts gone? How about the anguish of browsing your gallery and seeing nothing but black images in place of where your family photos used to be?
You had need not be distressed, there is this simple to use app that can recover contacts, photos, deleted backups and more.
Dr. Fone Iphone Data Recovery is a complete recovery solution for iPhone, iPad, or iPod touch and is fully compatible with iOS8. This desktop based application runs on all Windows platforms and Mac.
Dr. Fone Features
Data Recovery from iOS Devices (iPhone, iPad, and iPod touch)
Data Recovery from iTunes Backups
Data Recovery from iCloud Backup
Operating System Repair
Data Preview before Recovery
SD Card Recovery
Full File Type Support
A Total Recovery Solution
Accidental deletion of files, contacts, messages or mails are no longer a problem thanks to this innovative app. Dr. Fone facilitates recovery of data across all iOS platforms. It can recover either directly from the device, or from cloud based backups if your device has been stolen or lost.
Dr. Fone for iOS even recovers from damaged devices thanks to the backup-based recovery functionality. Recovery of all file types are supported.
It takes three simple steps to recover any lost data:
1. Plug-in your device.
2.Select the data that you wish to recover.
3. Preview and confirm your recovery choices.
Easy as that. Voice memos, Safari bookmark, reminder, saved notes, calendar, call & messenger history, message attachments, messages, contacts, photo stream, camera roll videos and camera roll photos are all recoverable.
Operating System Repair
The operating system repair tool provided by Dr. Fone for iOS is a fantastic addition. Recovery from iOS white screen failures is made quick and easy.
Dr. Fone frees you from a stuck "recovery mode" glitch in no time, while also providing access to recovery mode in a snap. Black screen failures or device freezing both can be repaired by this useful app. Another great feature of the operating system repair tool is that it does not cause any form of data loss.
It should be noted that your iOS version will always be updated if using any of these tools and your device will need to be unlocked, "rooted", again if that was how you had it. Dr. Fone's Operating System Repair will have your phone or tablet up and running from almost all device failures within ten minutes!
Free To Try
Dr. Fone for iOS is available as both a paid product and a free-to-try app, although certain features are restricted. The free app is a great tool to have on hand in case of accidental deletions or other gremlins.
Paid members gain access to a range of support options, include 24-hour live tech support in case the need arises. Your privacy is thoroughly protected and all data transmissions are encrypted.
Dr. Fone for iOS is a must-have for anyone that has lost data of value. A comprehensive and complete data recovery solution, Dr. Fone is a great app in both free and paid subscription models.