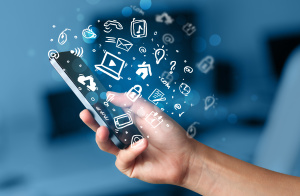 Have you been buying apps from the Play Store or bought an expensive high-end phone? Do you know that you can earn cold, hard cash and other rewards from using certain apps? All you have to do is to carry out tasks like taking photos, grocery shopping, watching videos or completing surveys.
I've put together 5 money making apps for Android you really need to check out. They are easy to use and make you gain more than you lose.
1. SwagBucks
Swagbucks is an online portal which helps you earn digital dollars called "Swag Bucks". You can redeem your Swagbucks for gift cards, coupons or sweepstake entries from Amazon, Walmart, Paypal, Target, and Starbucks.
How It Works: Watch promotional videos, participate in polls and surveys, buy products, play games, inviting your friends and completing special offers.Whenever you sign in, you'll get rewarded for searching.
How Much You Earn: A wide range of prices. Gift cards, entertainment coupons, swagstake entries and much more.
Check out this Swagbucks review
2. Field Agent
Field Agent helps you make money with your Android device by completing jobs within your locality. According to them, they have paid over $6 million to thousands of users using the app.
How It Works:
Download the app, create an account and complete a short profile.
Browse jobs in the Find Jobs screen to find available jobs in your area.
Accept a job offer and complete it within 2 hours.
Submit your work for verification and approval.
Get paid via Paypal or Dwolla
How Much You Earn: You earn between $2 and $12 per job.
3. CheckPoints
As they always say, CheckPoint is "The App That Pays You Back" with free rewards, no matter where you are. You can collect your rewards whether you are grocery shopping, in the movies or at home.
How It Works: When shopping, use CheckPoints to scan barcodes on products such as Coca-Cola, Vick's and Olay and earn points. You can try new apps, watch videos, or play games for even more points. The more activities you involve in, the greater the points you earn.
How Much You Earn: Get Amazon and Walmart gift cards. American Airline miles, tablets, consoles, and even donation to charities.
4. GymPact
This app works by tracking your time at the gym. It is the most effective way to keep fit and still earn cash for that. GymPact uses cash stakes to help you achieve those health goals, week after week.
How It Works:
Make a week Pact to exercise more or eat healthy food. Set what you'll pay other Pact members if you don't reach it.
Use the Pact App to track your progress.
Get cash for reaching your pact, paid by those who didn't.
How Much You Earn: You earn between $0.50 and $0.75 per workout which must last at least 30 minutes.
5. Phewtick
Phewtick is an interesting mobile app which like the others, earns you cash for just meeting new people. Yes, you earn cash for just meeting new people.
How it works:
Set up an account through Facebook. Once logged in, the app will determine your phone's location and give you a list of people in your area.
View their profiles and choose who you'll love to meet.
The app will generate a QR Code for you and your new friend and this must be scanned by your partner to prove that you actually met.
A game is initiated which you both have to play together for points. You can cash them out when you hit a certain amount.
How Much You Earn: You earn points that you can cash out, or donate to UNICEF or the Red Cross. You earn the opportunity to meet new people for work or leisure.
Here is my list of Android apps which earn you money. Do you know of any I've not mentioned? Drop it in the comment box below.