If you want spying and phone monitoring to be as simple as can be, then Easy Spy may be the best choice for you. With this software, you will be able to monitor text messages, calls GPS location and other data from the phone you are tracking, and it offers great tools for both parents and employers.
We are taking a look at whether this software really is as easy to use as it claims itself to be. We will go in-depth and give details on all of the features this software provides, how it works, and how it could be beneficial to you.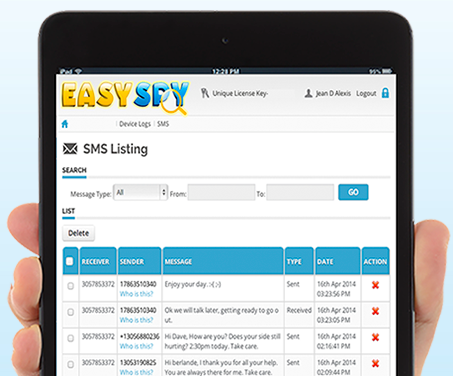 Overall Ranking: 0 for originality
Website: EasySpy
Money Back Guarantee:  10 days, refund request send to: refunds@highstermobile.com
Price: $69.99
Don`t Be Fouled
After some in-dept research we found that EasySpy is actually a version of Highster Mobile, yes same product same company different name.
How do we know:
1. Same charge will appear on your credit card statement – The charge will appear as ILF Mobile Apps Corp with both Highster Mobile and Easy Spy.
2. Dashboard will show Highster Mobile.
3. Refund requests are send to refunds@highstermobile.com
This doesn`t mean, the product is not for you but I would get the original Highster Mobile, same price but without the EasySpy middle hand.
Easy Spy Overview
Like mentioned above, this phone monitoring software comes with a wide range of different monitoring and tracking features, and whilst it may not offer as much as some other fully-featured alternatives, it gives users enough tools and utilities to make using it worthwhile, whilst keeping things as simple as can be.
Text message and iMessage monitoring– With this software you can easily monitor sent and received messages, even if they have been deleted. Never miss any messages being sent to and from the phone you are monitoring.
GPS tracking – If you need to keep an eye on where your child or your employees are, then the GPS tracking in this software will work wonders for you. This gives up-to-date GPs location data that updates every five minutes.
Stealth Camera – Want to see exactly where and what the owner of the phone you are monitoring is doing? With stealth camera you can secretly use the camera as a spycam and get a peak of where your employee or child is.
Huge Log Records – Keep track of all calls, web data, social network activity and more with this software.
Benefits
Does using this software benefit you in anyway? In this section we take a look at two different usage scenarios and see how this software could come in handy for those two scenarios. We are looking at the perspective of a worried parent as well as a concerned employer.
Parental benefits – As a parent, it is easy to worry yourself to death about what your child may be doing when he or she is out of your reach, and now that children have access to the internet and many messaging tools that could get them talking to strangers, there are even more reasons to worry.
Worrying makes sense – you want to make sure your child is safe, and with the parental benefits in this software you will be able to.
Not only will you be able to ensure that your child isn't viewing damaging content online or talking to strangers, but you will also be able to see where they are in real time, and look out for them by making sure they aren't being cyber bullied by any individuals from school or other places.
This software offers a great, easy-to-use platform to keep your child safe.
Employer benefits –  If you are running a business and you need to keep track of employees, this software offers you the tools and utilities to do exactly that. Sometimes your employee activity can concern you. Are they slacking off on the job? Are they providing invaluable information to your competitors? There are a hundred things your employees could do to your business to ruin it, and their smartphones give them a platform to do this from.
With this software you can ensure you are keeping your employees away from causing harm to your business with ease.
Features of This Software
In this section, we have listed and described all of the major features available to use in Easy Spy.
Text Message Monitoring
With this software, you will easily be able to monitor and manage sent and received SMS messages from the phone you are monitoring, and you will even be able to recover deleted messages. No sent messages will escape your grasp, which could be incredibly important for business or for parenting.
iMessage Monitoring
Some monitoring software fails to give monitoring options on iMessages, but this software has it all covered – manage messages sent from iMessage in a similar fashion to the SMS message monitoring.
GPS Tracking
With this software, you can also track the location of the phone you are monitoring, with live, 5 minute updates. If you need to know where your child or employee is, this is the best way to do it discreetly.
Live Control Panel
The live control panel in this software is incredibly easy to get a hang of, and it gives you lots of live information about the activity you are monitoring on your child's phone or your employee's device.
Stealth Camera
The stealth camera is perhaps one of the most interesting features; with this software you will be able to override the camera of phones you are monitoring to use the camera to view surrounding areas – the GPS location tracker can tell you where somebody is, but the stealth camera might just be able to tell you why.
Extensive Logs
Want to keep logs of everything? This software can track, monitor and store call logs, website search logs, app download logs, and data on photos, videos and other files.
What Is It Missing?
Limited social networking logs – you will be able to monitor Facebook, Twitter, WhatsApp and Instagram but communication channels like Skype and Viber are missing.
Alert settings – this program will not allow you to set alerts, alert settings can come in handy if specific words or contacts are used or if the phone is in areas where it`s not supposed to be.
Apps installed – with most of the more advanced monitoring software you can see apps installed, even delete and monitor them. This can come in handy to make sure your child is using age appropriate apps and are not downloading anything he is not supposed to.
Compatibility
 iOS
Android
HTC
Samsung
LG
Motorola
Huawei
Kyocera
Sanyo
Make sure you check so that your phone is compatible with the program, that can be done here.
How Does The Program Work?
Customer Support
You can reach them via phone, call US: 888.594.8994 or by submitting a ticket.
Reasons to Invest in Easy Spy
One of the best reasons to pick up this software is because it is very easy to use. Some monitoring programs are complicated, but this software has been made with simplicity in mind.
On top of this, the software we are reviewing is very cheap – there is a simple one-time fee of $69.99, and after this there are no follow-up hidden fees or monthly costs.
This software can also be used on most iPhone devices, and ALL Android phones, which is very useful for those that need to monitor multiple different types of smartphones or tablets.
Because it is both cheap and easy to use, if you aren't particularly technology-minded, then Easy Spy is definitely a great smartphone monitoring solution for you.