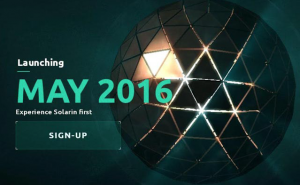 Sirin Labs, a new tech company has launched its first smartphone after raising over 72 million Euros in funds. Solarin is a high-end Android smartphone with super high-end security. This smartphone has been claimed as the world's most secure phone which incorporates the most advanced privacy technology which cannot be found outside the world of spies.
Sirin Labs says Solarin features military grade encryption baked-in from the software level right into the hardware level. The phone's shielded mode makes use of a physical security switch for making secure phone calls. Solarin is targeted at wealthy business users and will be available from stores located in Mayfair and Knightsbridge from 1st June. Let's go ahead and see what the smartphone is made of.
Solarin Design
The smartphone's edge is made of titanium, which is very strong yet light and resistant to several elements. The build is apparently made from the same company that makes some of the best watch bezels around the world, considering at its premium look.
The rear is covered with a pure leather material which offers better grip and feel than other competitors like the LG G5.
Solarin Display
Solarin has a 5.5 inch IPS LED screen with 2K display, which the company claims, is the best in the world. The screen is protected with Corning's Gorilla Glass 4 and is curved at the top and bottom. The phone's display is impressive with very high brightness and vivid colors.
Software and Security
Solarin is most secure consumer smartphone so far, thanks for a chip-to-chip 256-bit AES encryption – what militaries use around the world. There is a security switch at the phone's rear which puts the phone into shielded mode.
In secure mode, the phone shuts everything off and connects only to other Solarin phones for calls and texts. Outside the secure mode, Solarin uses secure systems which protect the handset all the time.
The handset also has a Snapdragon 820 SoC with lots of security upgrades.
Solarin Camera
The phone has a 24 MP rear camera backed by a four-color flash and Gorilla Glass 4 as the camera lens. This offers better lighting and shots than regular plastic. The front-facing camera is an 8-megapixel shooter backed by its own flash. This works very well in low light conditions.
Battery and Extras
Solarin can last for more than a day with a powerful 4000mAH battery with Qualcomm Quick Charge technology. The phone has three bass-boosted speakers powered by a high-end audio amplifier. DAC will also make sure you get the best audio experience via your headphones.
The handset is the first phone with Wigig 802.11 ad, which means the phone can transfer data up to 7Gbps on supported networks.
Conclusion
It's rare to find a smartphone worth thousands of dollars. Solarin costs £9,500 ($14,000) and is built for people who want military grade security with an amazing hardware.
Thank you for reading, Everything You Need To Know About Solarin.
Will you spend whooping $14,000 for an Android smartphone? Let us know!