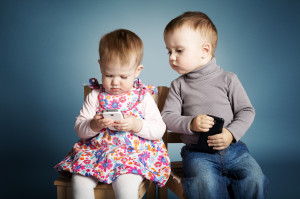 Most parents purchase their child`s first cellphone for the peace of mind of being able to reach them at anytime.  They would also like for their child to have a way to reach people in case of an emergency.  Their first phone connects them to the most important people in their lives.  But for a younger child, how do you avoid the pitfalls of them misusing their cellphone?
The best way to do this is by providing restriction on their incoming and outgoing phone calls, not allowing text messages from strangers, blocking their Internet usage and monitoring their downloaded applications. The only way to do this without being by their side constantly is using a cellphone monitoring software.
What Needs to Be Monitored?
Once your child receives their first cellphone (after much lobbying-I'm sure), it would be a good idea to have set limits on the phone from a safety point of view.  Their very first phone may have a phone plan or the ability to block different functions.  After a few months or years, this will quickly change because of technology.  Smartphones are like mini computers that hold their school schedule, important notes, and apps to help with their homework.  Before long, you will have a texting ninja on your hands who is now in the line of danger to a lot of outside peer pressure from social media site, online application and lurking predators.
Can they be trusted to use text, photo, and video functions responsibly? On their smartphone, do you know the movies they are watching, games they are playing and the most common sites they visit on the Internet?  Your child is being given a powerful communication and production tool that can be used in a lot of positive ways.  However, the negative things you have to watch out for is making sure they are not broadcasting personal information like their address or their current location.
Monitoring your child will help you stay one step ahead of the game by placing limits and restriction on their smartphones to help keep them safe while monitoring their activities.  Something else to think about, there are very serious actions that can be taken on if your child is caught with provocative photos on their phone. As a parent, you must be aware of what your child is doing on their cellphone.
Who Has the Best Monitoring Service?
Most smartphone spyware offers the same basic features, such as recording text messages and checking the GPS locations. However a few offer more advance features like an activity report that is automatically sent to any email and the ability to log into the Web site and watch all incoming/outgoing calls.
An example of an advance feature is you receive an alert if calls or messages come in from a specific number on the phone that is being monitored. For instance, if you see a suspicious or unauthorized person calling, texting, or e-mailing your child, that call is rerouted to another number and you are notified.  There are several monitoring software that can help you safely watch your kids smartphone activity.