Flexispy for tablets is a monitoring software that can help you to keep track of all the data and activities of a tablet, and this can come in handy for a variety of different people. Typically, this software is aimed at concerned parents who'd like to keep an eye on what their children are doing online, or employees that want to monitor their employees to ensure they aren't doing anything that could be damaging to their business.
Flexispy for Tablet Review 2016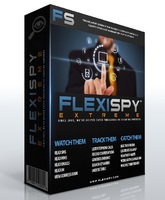 Overall Ranking: 9/10
Website: FlexiSpy
Money Back Guarantee: 10 days
Price: fr. $68 monthly, $99 quarterly and $149 yearly
Compatible with iOS8
In this review, we take a look at whether this software is useful for tablets or not, and give our thoughts on when and why you may want to use the features found within.
Flexispy Tablet Overview
Although this software can be aimed towards smartphone usage, there are a wide range of features in this software that make solely using it on a tablet worthwhile.
All of the available features will in some way allow you to monitor or track any activity that happens on the tablet your are using the software with, so this means you'll be able to get a very clear understanding of what your child or your employee may be doing, depending on your personal circumstances.
Below, we have given a quick look into the various tablet monitoring features you will be able to find in this software.
IM Spy – Monitor what messages are being sent and received on apps like Whatsapp, BBM, Skype or Facebook.
Crack Passwords – Crack into any tablet remotely by using the lock screen password cracker
Multimedia viewer – Look at all of the multimedia, including photos, music and videos, remotely
Keep logs – keep logs of certain information such as IM conversations, photos, files or other data for future reference
We'll go into more details about the full features later on in the review.
Parental Benefits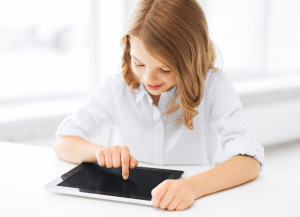 Have you ever wondered what your child may be doing whilst online? Although it's likely that your child may be safe and sound browsing on the internet and talking online to their friends, there are many dangers on the internet that should not be overlooked.
Firstly, there is a lot of content online that could be damaging to your child, but with this software you will be able to keep an eye on exactly what content is being looked at online so that you can be alerted if your child does stumble upon something they shouldn't have.
There are also countless ways for strangers and other children to start talking with your child, and this could create a whole host of problems. Whilst teaching your child basic internet privacy and safety rules could keep your child safe, there is nothing stopping strangers on the internet, or other children from cyber bullying your child.
The internet gives many children a chance to voice their thoughts anonymously, and your child may not want to talk about cyber bullying to you if it is happening to them. This software can track IM conversations so you'll be sure to know if this ever happens.
Employer Benefits
Gossip in the office? Employees conspiring against you? All of these thoughts and worries will rush around your head as an employer, and it's understandable. You pay their salary, but besides from that they may not have any reason to be your friend.
With the monitoring features in this software, you will be able to track any online conversations or web history that may make a negative impact on your business, and approach any employees that do so.
This is a sure-fire way to keep your business safe from renegade employees.
More Feature Details
In this section, we will take a more in-depth look at some of the features we mentioned earlier, as well as delve a little into some other features.
You do want to make sure that the features you are looking for is included in your tablet program! Some features are included with the iPad and some with the Android tablets.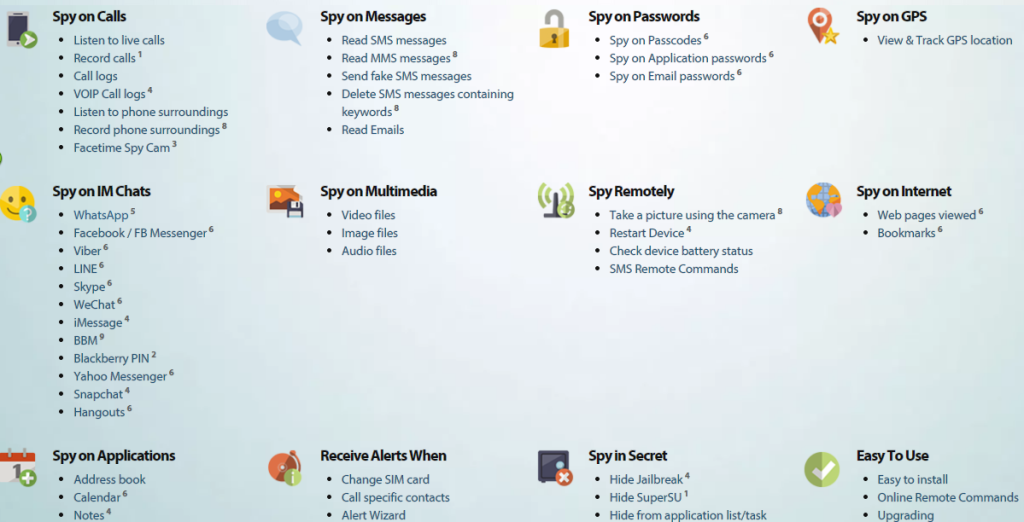 IM Spy
Instant messaging is the new way to communicate, and more and more people are moving over from standard emails and SMS messaging to send messages via IM. Chances are, your child is using one form of IM app, and a lot of information could be exchanged within IM conversations.
With the IM Spy in Flexispy for tablets, you will be able to ensure that your child isn't being bullied or threatened, and also keep an eye on what others are saying to him or her, and what they are saying back.
It's not always nice to pry into another's personal conversations, but doing a quick scan for threatening or aggressive content will help to let you know if your child is being treated fairly online by his or her peers.
Password Cracker
Many tablets now come equipped with pin systems that will stop others getting into the tablet to view any content without entering the correct pin – this can be frustrating for a parent or an employer.
A lot of questions will be raised when a child puts a lock on his or her tablet, and it could possibly be because they are trying to hide something, and the same can be said for an employer, but the password cracker app can ensure that you can get into any tablet and view any content that may be purposely hidden from you.
Multimedia Viewer
Simply going through file names isn't enough – it is incredibly easy to change file names on a tablet, and even your child can work out how to change names of a multimedia file.
With the multimedia viewer, not only will you be able to view file names, but you will also be able to view content directly – this will help you to keep an eye on what content your child is viewing, and advise them to stop viewing it if it turns out to be inappropriate.
Log Tracking
Sometimes it can be hard to keep track of everything manually, but the log tracker feature of this software will help you to track everything automatically so that you can come back in the future to look at it properly.
The log tracking feature is also incredibly useful for when you want to keep a reference of something, such as a certain message or visited web page.
See the whole list of FlexiSpy features here.
Compatibility
iPad running on iOS  6.x to 8.x. (The Extreme version works with iOS 6.x to 7.1.2.)
Android Tablet running on Android Version 2.3 to 4.4.2
What Products Does FlexiSpy Offer?
iPad
For the iPad, FlexiSpy offer one product Premium, with a 1 month, 3 month or 12 month subscription.
1 month $68
3 months $99
12 months $149
Android
For Android tablets they offer 2 different products Premium and Extreme.
Premium
1 month $68
3 months $99
12 months $149
Extreme
3 months $199
12 months $349
All premium features + Password cracker, Record phone calls, spoofing tools and control of microphone and camera.
Pros and Cons
Pros
Features –  I have not seen another monitoring software offering this many features.
Dashboard is easy to work with.
Price – starting at $68 you can try this product out.
Cons
You do have to jailbreak and root the tablet if that is not done, this you have to do with most monitoring software.
The upgrade is a little pricy.
Support
There are 3 ways at this point to get hold of FlexiSpy.
Live Support
Email them at info@flexispy.com
Ticket Center
Our Verdict
Does this software make for a good tablet monitoring tool? From our experience, we would say that Flexispy for tablets does a great job at providing all of the basic tablet monitoring utilities and then some, and the versatile set of tools that are easy to set up and use will surely come in handy for tracking your child, your employees, or even your partner.
Flexispy for Tablet Review 2016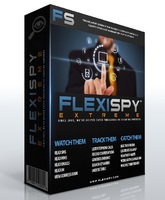 Overall Ranking: 9/10
Website: FlexiSpy
Money Back Guarantee: 10 days
Price: fr. $68 monthly, $99 quarterly and $149 yearly