Do you communicate abroad and are looking for a free international texting app? Personally I have family and friends in Sweden and the phone bill gets pretty high. When I got my iPhone I started to look into free ways to text and communicate with my family and friends over seas. I wanted an app where I could send and recieve text messages for free I also wanted to be able to send and recieve pictures. Calling for free would be a plus as well.
Free SMS Apps
Viber

My choice is Viber. With Viber I can text and send pictures for free internationally. It integrades with my contact list but if they are not Viber members I need to invite the person I want to communicate with, which is fine. My family and friends were happy to find out that they could text for free as well. You can use Viber to call and sometimes it works well sometimes not but that is ok, I use Viber mainly for texting.
Viber works with iPhones, Androids, Windows, Blackberries, Nokia and Bada phones. Viber has been a great choice for me and my family has saved us a bunch of money.
Voypi

Voypi works pretty much like Viber. You download Voypi to your iPhone or Android phone then you invite your family and friends. You can call them and text them for free. When I write this they are still doing Beta testing on it.
HeyWire

HeyWire is a free app but it seem to be slower than other free international apps. You also need a assigned, special text number to find friends on their network. This is of course not the most convienent.
Text+
Text+ this is an app to app international texting so you need the person in the other end to install the Text+ app just like you have to do with Viber. You get a new free text number, this app works well but I do not like the fact that you get a new number …  It works with iPhone, Android, Windows and Nokia phones.
Google Voice or Skype are two other programs that offer international texting. There are more options but mostly chat applications.
Rebtel – not free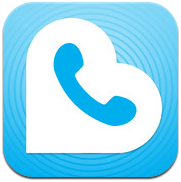 Rebtel is another option this is not completely free they charge a small fee but they do offer internationall texting for Android, Windows and even some non-smartphone. You submit your phone number to Rebtel and the numbers of your family and friends Rebtel then create local numbers for each one. That`s how they keep the texting cost down.
I hope this help you find a sms app that will suit you and your family and friends, letting you text for free. Like I said Viber is my free international texting app.