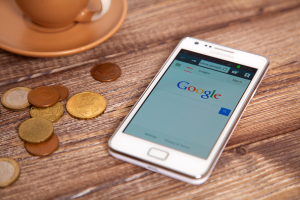 We've all been there. You and your friends discussing who the best footballer in the world is or which pop artiste made the biggest hit. And for obvious reasons, all of you can't agree on the same thing.
Well, Google is said to have come up with a technique which settles your arguments instantly without you leaving your conversation.
Google has been in the news lately – Android M, Android Pay, Google Cardboard, Google Auto and what not. This time round, Google has acquired a patent from the US Patent and Trademark Office (USPTO) which enables users to settle text or voice arguments instantly using Google's search engine.
The patent awarded to Google on May 12 suggests that the system can respond to queries without having users leave their text message or voice call conversations. The piece of software could be embedded inside a messaging program, allowing users to ask Google Search questions in a conversational style.
Couples Debate
So, for example, if a couple were debating about which hotel had the cheapest rates in the city, Google's search engine would automatically send them the right answer without either of the partners doing the search themselves.
It is a conversation which took place between "Dude" and Slammy".
Dude: …Wanna Bet?
Slammy: "Find EZ" Ronald Reagan Birthplace
FEZ: Tampico, Illinois. Link.
Slammy mentions the keyword "FindEZ" and then her query. Google Search searches for the birthplace of Ronald Regan and then answers within the conversation so both Dude and Slammy can see. A link to the search result is included just in case either parties want more information. Just as Google Now is activated by saying "Okay Google" and Siri by saying "Hey Siri", "FindEZ" is used in triggering this service.
VoIP Call
Google provided with the patent, two parties talking over a VoIP call want to know whether to go on an European vacation. The lady initiates the search by mentioning "SuperFinder" and then asking Google Search for the exchange rate of Euros to Dollars. "Super Finder" returns the search result and chips it into the conversation.
This patented technology provides a much easier way to win arguments. Also, it could limit some of the damage caused from arguments, which sometimes creates distance which hurts relationships between couples.
Revolutionary Service
I think this service is going to be revolutionary when it gets rolled out to the public. It will come in handy, especially for those who have argumentative friends. However, it is not a must for Google to roll the technology out to consumers even though it has been approved. A Google exec even said that some of their patents turn into products and others don't.
There is no specified date Google is expected to release this product, so for the mean time we will stick existing voice search apps like Google Now, Siri, Cortana and Slackbot – a software users can ask to remind them while they continue to talk other humans
Do you think this innovation is an opportunity for Google to invade users' privacy or it's just another way of making our lives easier. Let us know what you think.