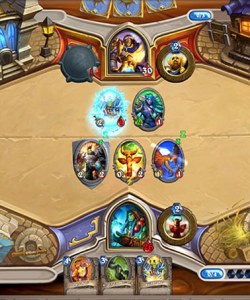 If you haven't played Hearthstone in a while, now's the perfect time to pick it up again because Blizzard has just released the game's first expansion this 2017! Ever since Blizzard introduced two styles of play which is playing with a Standard and Wild deck, we can expect new playstyles that's sure to satiate the hunger of any Hearthstone fan! For those who are relatively new to the Standard and Wild deck formats, we'll be giving a brief explanation of what it is.
Standard and Wild
Blizzard introduced the Standard and Wild formats to the game as a way to keep gameplay fresh and exciting while still adding new cards to the game. This way, they don't alienate new players who want to get into the game since veteran players may take advantage of their newbie deck and status (which is nothing to be ashamed of by the way). Not only is this great from the perspective of players but developers also benefit from this since they have more creative freedom when designing new cards. So to put it simply, Standard decks only include certain cards that have been released recently while Wild decks contain cards even from previous expansions.
Year of the Mammoth
On to the expansion! So what exactly can we expect from the first expansion this 2017 aside from the new cards? Blizzard has put emphasis on giving players more deck-building options and variety in the game and they hope to accomplish this with their new release cycle. Before the Year of the Mammoth, cards were alternately released between expansions and adventures. This year we can expect something entirely different. There will be 3 releases this year that features a 130 card expansion per release. One release will be at the start of the year followed by another release in the middle of the year and the last release will be done at the end of the year.
Wild Cards
For experienced Hearthstone players, playing with a Wild deck is where the real challenge is. You'll be going up against players whose deck may include cards from any of the previous expansions. Surely, it's tough but that's what makes it so satisfying when you win! Plus, it offers you a whole lot of freedom when it comes to deck building which can offer some pretty crazy results. If you're a new player though, we recommend that you build your collection of cards by playing on standard only. It's tough when you start playing Hearthstone using a Wild deck because first of all, you probably lack the experience and second, your cards will be pretty basic.
Start Playing
These are just a few things that players can expect from the Year of the Mammoth and it's definitely something to be excited about! What makes this card building game so great and addictive is that it caters to both new and experienced players offering a wide selection of play styles. While it may take a while to get a hang of the game, it'll be hard to let go once you get that first win.
Enjoy!