For those who have witnessed a loved one hide a mobile phone, take calls outside or act generally secretive when a message comes in, this Highster Mobile review is a helpful guide along the search for spyware. It functions like most similar programs on the market, recording information on a target device and then delivering it to a secure website. Users also have the option to receive this information via their own mobile devices or access it via email.
There are a lot better options out there, we do not recommend this product, because of all the negative feedback it has gotten.
Highster Mobile Review 2016
Free Trial: No
Guarantee: 30 Day Money Back
Price: $69.99 one time fee
Website: Highster Mobile
Highster Mobile Benefits
Benefits for Parents – this software will help you sleep better at night. You will know where your teenager is at all times. You will also know if they receive any inappropriate messages so that you can step in and keep your child safe. The world is a scary place and sometimes we need to take specific actions to keep our kids safe. With the unlimited usage you can use one license and use it for all your kids. This can really save you some money if you have more than one child.
Benefits for Employer – with Highster Mobile you can take control of your business even when you are not there. This software will allow you to focus on what`s important and not to keep track of your employees this software will do that for you. One price use it on unlimited phones, this is a cheap way to know if your employees are really working or taking care of private matters on company time.
Highster Mobile Features
Monitor Calls
The amount of data this program captures is pretty good. Call logs include the time and date of the call as well as its duration. Users can see numbers dialed from the phone as well as those that are received on the device. The name of the contact associated with the call is also provided if that information is stored in the phone.
NO LONGER AVAILABLE – It is also possible to set the software to record phone calls. Like live calls, a user can see the date and time the audio was recorded. Recorded calls are downloadable via the secure web site assigned to the user.
Review Text Messages
Text messages are easily accessed after this program is installed on a target phone. Even when the SMS information is removed from the phone, the contents of the entire message are available to the individual monitoring the device. The user can see the telephone number associated with incoming messages as well as the numbers to which text messages are sent.
Data logs include the date and time messages were sent and received. Records are easily downloadable in pdf, txt, and doc formats. In addition to keeping track of calls and texts, this program also provides user access to GPS locations, pictures, videos and emails.
Features Overview
Record all calls
View call logs
Record all text messages
Read emails
Secrete microphone activation
GPS tracking
View pictures and videos
WhatsApp Messages
New Features for HighsterMobile
With their latest update HighsterMobile added some good features, they were falling a little behind their competitors but with the new updates they are now keeping up.
Track Facebook activities
Monitor Instagram
Track Skype activity
Track Twitter, WeChat and LineChat
Stealth Camera – take pictures in stealth mode with the device
Uninstall the software remotely
Dashboard Screenshot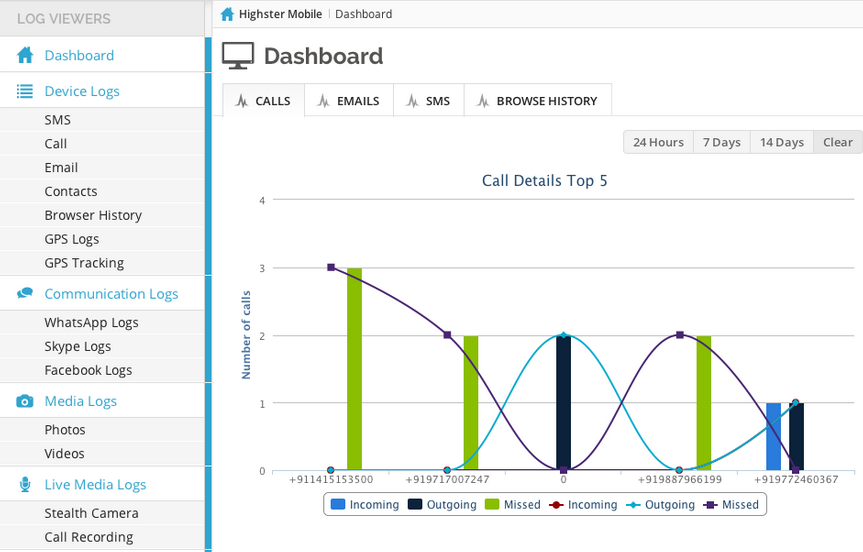 Highster Mobile Compatibility
This product is compatible with most all smartphone devices on the market, including the popular iPhone, BlackBerry, Droid and Samsung Galaxy. It can even record information received on an iPad, iPod and other tablets.
Highster Insallation Process – Easy Access
Because access to the phone targeted for monitoring is required during installation, time is of the essence. This product requires just five minutes (or less) to get the job done.
4 Ways to Install the Program
Over the air  – you type in the links directly in the phones web browser
Scan the QR code with a barcode scanner
Use a USB cable to transfer files from computer to phone
Bluetooth
Users have the option to transfer files from the software downloaded onto a personal computer direct to the phone via USB cable. Individuals can also install the software by typing provided links directly into a web browser on the phone. Installation via bluetooth connection is also an option.
Highster Mobile Pros / Cons
Pros
One time fee
The software can be used on as many phones as you would like.
Cons
In comparison with their competitors they still fall behind with the feature list.
The product does not offer any alert settings, which comes in handy if you are keeping an eye on your children.
The software does not cover much of the social media activities, this has improved though with the latest updates but we are still missing iMessage, Snapchat and other social media.
They do not claim the software being undetectable.
Highster Mobile Customer Support
You can reach Highster Mobile via phone 866 611 9506 if you are in the US just add +1 before the number if you are calling from anywhere in the rest of the world. They also have a live chat and ticket system. Live chat has not been available when I have visited the site, just heads up you might want to try that out before purchase if that is important to you.
Highster Mobile Price
At $69.99 a one time fee the program is available for use on multiple devices and there is no limit to the duration of data recorded. The product also includes round-the-clock customer support and comes with a 30-day money back guarantee.
Highster Mobile Final Verdict
The company claims its product is the "most powerful" and "easy to use" on the market. Well that will be up to each user to decide, we can say it is a robust system that should meet the needs of anyone in the mobile spyware market. Our Highster Mobile review gives this product a positive rating, due to the low price and feature improvements.
Overall Ranking: 
Free Trial: No
Guarantee: 30 Day Money Back
Price: $69.99 one time fee
Website: Highster Mobile
There are a lot better options out there, we do not recommend this product, because of all the negative feedback it has gotten.
Have you used Highster Mobile software? We would love to hear what you think!