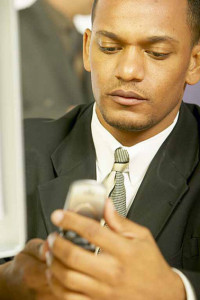 A lost phone, an accidental click of delete or a number of other things can lead smartphone users to ask, can I retrieve deleted text messages? Fortunately, the answer is typically yes. It may take a bit of effort, but it is possible to regain access to precious deleted data.
Potential for Recovery: Synchronization Records
In all likelihood, the most familiar way to access deleted text messages is via a software program designed to sync a smartphone with a personal computer. iTunes is a classic example. Each time a phone and computer are connected, the data housed on the phone at the present time is stored in the computer.
It is possible to obtain deleted text messages by locating the computer file from the most recent sync. However, a sync that occurs after the text messages are deleted will overwrite the file on which they are saved. This illustrates the importance of creating regular backups instead of relying on sync records.
Likely Recovery: Software
Software programs, available for a number of different devices and operating systems, work by creating a backup of all data housed on the phone. This is different from iTunes, which falls short in that it only records data from the most recent synchronization. In addition, software programs do not overwrite previously saved data.
These programs are designed with the user in mind, so it is easy to save and access data. The use of a software product also enables those who use a standard mobile phone to create backups needed to recover deleted text messages.
Likely Recovery: Spyware
Though not a recovery method, per se, spyware is an avenue via which an individual may access text messages deleted from a device that does not belong to them. Parents who have a need to monitor their teens' text activity might turn to spyware to provide a reasonable solution.
After spyware is installed on the device, it is possible to read text messages received on that device. This functionality is available to the installer no matter the time or place messages are sent or received. If spyware is not an option, iTunes also makes it possible for anyone with access to the computer where a device is synced to find files.
Of course, other last resort options exist. Try contacting the person who received the deleted message. Anyone who has the communication on their phone can forward it back to the device on which it was deleted. This method works best when the recipient is made aware of the deleted message soon after it was sent.
In today's digital world, most people have come to rely on their mobile devices and smartphones to communicate throughout the day. Unfortunately, phones can become lost or incur damage, accidental deletions happen and data is sometimes lost. Though it does require patience and advanced planning is recommended, it is possible to access once-deleted data. To anyone has ever wondered, can I retrieve deleted text messages, the answer is yes.