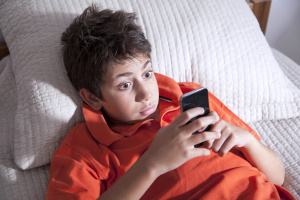 If you are wondering how to block websites on your child's phone, you will be happy to hear that there are a variety of approaches you can take.
In this article we will be explaining three different methods that can successfully block websites on a smartphone so that your child cannot view them.
Using Mobile Apps
There are plenty of mobiles apps in the app store and the Google Play store that can be downloaded. Some of these apps are even free, and they can be used to block content that your child is accessing. One example is BitDefender.
BitDefender is a mobile security app for iOS and Android that can be used to protect your device and keep it safe. As well as being useful for protecting your child's device against viruses or malicious content, you can also block certain websites.
To do this, you can head into the BitDefender control panel online and look through the parental control options.
BitDefender is just one of many mobile applications that can be used to block certain websites. Another popular example is PhoneSheriff, although this is a more standalone app that has a yearly subscription.
Go Through Your Network Provider
Many network providers now offer parental control tools for parents so that they can ensure their children are staying safe online with their new smartphones.
Most Pay as You Go SIM cards now automatically come equipped with 18+ content restrictions, but you can also manually set up a contract content restriction online or via phone.
Unfortunately most network providers do not provide the ability to block certain websites, but will instead block certain 18+ rated sites without any input from the parents.
The plus side to this route is that it won't cost you anything to set up. In some cases, mobile network providers will charge a monthly fee for extra features, but this is often under $10.
Using Monitoring Software
There are a few different monitoring solutions for mobile that can be used to block websites and apps on your child's phone. On top of being able to block content, monitoring software can also be used to monitor what websites your child is visiting.
Viewing your child's web history will allow you to keep an eye on any websites that are unsuitable for your child that he or she may be visiting.
This is very useful for when your child finds a site that has not yet been blocked by your monitoring software or other blocking methods you have put into place.
Monitoring software may be the most expensive option on this list, but it is the most extensive. You'll be able to access plenty of features on top of a mobile website block. You can learn more about what cell phone spy and monitoring software there is available here.
Now that you have read this article, you should now be be able to know how to block websites on your child's phone. Each one of these options offers a different level of parental control, and they all also have vastly different pricing.