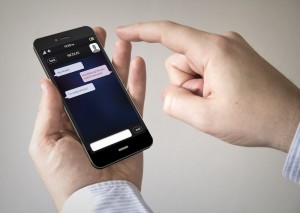 In light of the recent Snowden leaks, smartphone users are becoming more wary of the potential risks of communicating through standard and unencrypted channels. This is where encryption sets in – this technology uses various techniques to cipher a message before it's sent and deciphering it after it's received.
This means no one will be able to snoop on your messages to understand what they mean. There a few texting apps which support a full encryption and I'll like to tell you about them.
How To Encrypt Your Smartphone Texts – 4 Apps to Use
1. WhatsApp
WhatsApp is the world's most popular messaging app which works on most platforms and requires just your phone number to function. Full, end-to-end encryption was rolled out to WhatsApp a few weeks ago.
Your WhatsApp messages are secured with a lock, and only the recipient and you possess the private key to unlock and read the message. Every message you send, whether to a group or an individual has a unique lock and key, hence eliminating the need of setting up secret chats.
You can verify if your chats are encrypted by opening the chat, tapping on the name of the contact/group and then tapping Encryption.
WhatsApp is available on iOS, Android, Web, BlackBerry, Nokia S40 and Symbian.
2. BlackBerry Messenger
After the long exclusive stay on only BlackBerry devices, BBM is finally available for Android, iOS and Windows Phone users.
Each BBM user is identified by a unique PIN instead of using a phone number and emails like other apps.
All the messages are encrypted during transmission and are scrutinized by a firewall before they arrive at BlackBerry's servers, allowing them to be only decrypted using a private key on the receiver's phone.
Businesses can also obtain another encryption key for additional security.
3. iMessage
Apple has always been on top of its game, providing the all the security their users deserve. iMessage is available for every Apple device, meaning the way to use this app is to get an iPhone.
When you enable iMessage, the device creates two sets of private and public keys: one set encrypts the data and the other set signs the data. The public keys are sent to Apple's servers whiles the private keys are stored on your device, hidden from even Apple.
When someone starts chatting with you, their messages are encrypted and only your device knows how to decrypt it. In a nutshell, Apple has invested so much to make it an insane effort to read your messages.
4. TextSecure
TextSecure is a smartphone app built for the sole purpose of secure texting. It was developed by Open Whisper Systems, a group of developers who build a myriad of private communication apps and release the codes to the public.
TextSecure provides end-to-end encryption over both your calls and SMS without worrying about the safety of your texts. This is achieved by transforming normal SMS/MMS packets into binary and running the raw data through their encryption algorithm to ensure your communication is as safe as possible.