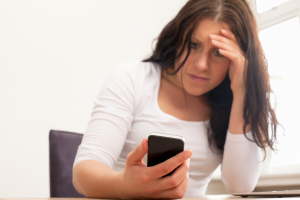 Often, we see phone numbers in different places and we wonder who they belong to. They could be persistent threatening or blank calls from an unknown phone number, a phone number you've been seeing very often on your kid's incoming or outgoing call records, a phone number you wrote down somewhere sometime back, or usual calls from different unknown number.
Finding out who's behind a phone number can be called a reverse phone lookup. Reverse phone lookups for landlines can easily be done through search engines including Google and Yahoo, as well as online services such as Switchboard and WhitePages but it is not so easy to conduct reverse phone lookups on cell phone numbers.
This is due to the strict privacy restrictions and transient nature of wireless numbers, publishing cell phone numbers in directories without the permission of the owner is a violation of the law. It's easier than it was before to find the name behind a cell phone number. Here's how you can who is behind that nameless number.
How To Find Who's Behind a Mobile Phone Number
1. Use Search Engines
Performing a lookup using one or all the major search engines including Google, Yahoo or Bing is convenient.
All you have to do is enter the phone number you're checking up on and if that number exists on any website on the World Wide Web, you can follow the links to wherever the number is have the number of the owner, along with all other pertinent details.
2. Social Networks
Members of popular social networking sites such as Facebook, Twitter, Instagram and Google Plus, provide their phone numbers with other personal information on their profiles.
Just go to the various social networking sites and enter the cell phone number and if you're lucky, you may find the person on one of those sites. You can try some other sites like Craigslist, USFreeAds and BoardTracker.
3. Online Tools
Here are a list of services to reverse phone number search. They are either free or come at a service.
eVerify helps you find both phone carrier and location of the given mobile phone number. All you have to do is to visit the service at  and enter the phone number. The website will provide you with the phone carrier and location of the number you entered. If you want to view the entire available information, you'll be asked to sign up and then pay.
Truecaller is a smartphone app which works as a worldwide number lookup service. You can find the owner of virtually any number without having to call. Truecaller contains all the contacts of its users all around the world as well as public phone directions. When you search for a number on Truecaller, it will display the name that person as saved on another user's phonebook. For example, if you are using Truecaller and you save your friend's name as "XYZ" in your phonebook, now if someone searches for your friend's name, it will show as "XYZ".
Truecaller is available on iOS, Android, Blackberry, Symbian, Windows and the web. You can access the service at www.truecaller.com