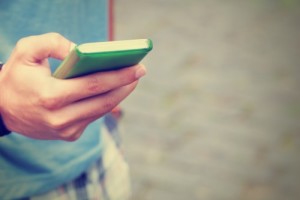 Android launched its 4.4 version named "Kitkat" around the same time as the release of the Samsung Galaxy S4, Nexus 4, 7, and 10 models. Despite being around for more than a year in a constantly transforming and improving software environment, almost half the android devices on the market right now are still using version 4.4 Kitkat, and it just might be that your tablet or phone has it installed.
To find out which Android version your device has, simply open "settings" and tap "about phone". Half way down the screen, you will see the Android version. This article will help familiarize you with the most noteworthy features of this Android build, and how you can get the most out of it on your device.
How to Get the Most Out of Android KitKat
How to use Google Now on your home screen
There should be a pre-installed Google Search bar planted on your home screen. If it has been removed, simply go to "applications" and scroll right until finding "widgets", where a new one can be placed on the home screen.
The search bar will have a small, multi-color microphone icon on the right hand side. Tap it, and Google Now will guide you through a brief voice recognition process to personalize your device for your voice. After completing this, enable "OK Google" detection (Settings -> Google -> "Ok Google" detection).
Now, at any time your device is awake or plugged in, you can simply say "OK Google" (of course loudly and clearly enough for the device to "hear" you), and the Google Search window will automatically open. Try key phrases like "give me driving directions to…" or "show me pictures of…" or "what is a…?" and with a sufficient Internet connection Google will decipher your requests and return the best search results for you.
Asking for driving directions will automatically open Maps and provide route instructions and even GPS. Google Now can also be used to send messages hands-free, simply with "send a message to ___ using ___ (Hangouts, Whatsapp, etc) saying…" This particular function is a bit touchy, so make sure to speak clearly into your device. Google will confirm message contents, and then send to a predetermined contact. Note that these voice-detecting functions will occupy a bit more battery then when they are disabled.
Using the new all-in-one version of Hangouts
Hangouts was recently revamped in order to combine all your phone's messaging needs into one app. Where previously one would have to use the default Android "Messaging" app to send SMS and MMS, now simply going into Hangouts and selecting the "SMS" option and enabling SMS in the app will allow you to receive all your messages in Hangouts, while also being able to sync your Google Voice messages and calls into the same app.
Android KitKat has a lot of other nifty little features, such as an integrated step counter and smart caller ID that will identify numbers not in your contacts book that call you by referencing nearby points of interest on Maps. One of the best things about Android 4.4, though, is its significantly improved use of your device's memory.
Now, a modern Android version is optimized to run on devices with 512MB of RAM and above. Almost all recent devices from the Samsung S4 onward now carry a bare minimum of 1GB of RAM, and this greatly facilitates your ability to multitask with your calendar, Gmail, a game, and a wealth of other open apps without your device becoming sluggish.
Knowing a few of these key features will help you get the most out of a great Android build, even as tech advances continue to bring new versions and features. Android 4.4 will be a safe bet for any user on older devices, and a great nostalgic backup for anyone looking to free themselves of the memory constraints of Android 6 and 7.