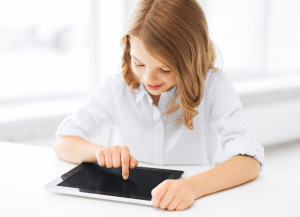 The iPad is a fun, great device. You can use it to search the internet, check the news, watch your favorite show. It`s also great for the kids. They can use it for school work, to play fun learning games on there or watch a educational show. The iPad is truly fun and beneficial for the whole family.
The thing is though when the whole family is using it you might want to put some restrictions on there. What`s appropriate for adults and older kids might not be appropriate for younger children. The same thing goes for the internet. The internet is a scary place, people hide behind profiles being something they are not. It is important that we keep our kids safe on the iPads and other devices. Your kids safety is exactly what we will be talking about in this article.
5 Ways to Make the iPad Safe for Your Kids
There are different ways to keep your kids safe when they are on the iPad. If it`s online or off line does not matter there are ways to keep them safe. One way is to use a monitoring app, to keep track of everything going on. This is probably one of the best ways to do it, but for different reasons that might not be the best option for everybody. If a monitoring app is not for you check out the below tips to keep your kids safe on the iPad.
These are safety settings that can be adjusted on the iPad:
1. Enable Guided Access
This is the type of setting that you might want to use, to limit your child`s usage. By enable guided access your child will not be able to access anything other than the application that your child is playing. To activate this function:
Go to Settings and choose General.
Choose Accessibility and Click Guided Access.
From here you can activate the guided access. You will also need to tripple click the home button in the app you want to use.
2. Restrict the Things that can be Accessed
This means that there are some applications that you will be restricting so that there is no chance of your child stumbling upon some of the things that you have in your iPad.
Go to Settings, General and choose Restrictions.
Type in your pin number. Make sure that you will not forget your pin code because it can be hard to unlock without it.
Enable the restrictions. You can from here choose the applications that you allow your child to access. So for example if you don`t want your child to surf the internet you can turn Safari off. Other things that you can restrict are camera use, FaceTime, the iTune Store, Apps and more.
3. Check Your Privacy Settings
In the privacy settings you can access social media accounts like Facebook and Twitter. If you want to restrict your kids usage of that you can do that from here. Also remember to log out from your social media accounts.
4. Check Game Restrictions
You might have some games on your iPad that are not appropriate for some of your kids. For some games and apps you can turn them on or off. You click enable or disable depending on what setting you want.
5. Disallow Changes to Your Account
With the things that your child is doing, he/she might make some changes to your accounts without your knowledge. You can disallow all changes before you hand the iPad to your child. That way you know the settings that you have set will not be change.
We list the best monitoring apps for iPads, to help keep your kids safe!
What`s your best iPad tips to keep your kids safe? Please let us know in the comment section below.