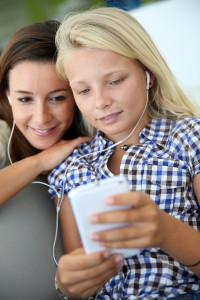 In a world where the Internet is used for everything, it is no surprise that there are predators trying to seek out your children and you need to know how to protect your child online.
Children do not understand the dangers that they face when they are using their smartphone or computer to get on the Internet. Often times, your son or daughter may be naive to many of the warning signs that are there.
As a parent, it is up to you to keep your children safe and teach them right from wrong. These tips will help you make sure that you are doing everything you can to protect your children online.
How to Protect Your Child Online – 5 Tips To Keep Our Kids Safe
1. Talk to Your Children
Open communication is one of the ways you can teach your children about the dangers of being online. You should speak with them and let them know there are people online who are looking to hurt them. You should discuss with them that these predators will pose as other children and seem nice but they have bad intentions.
2. Keep the Computer Out of Your Child's Room
Some parents make the mistake of giving their child a computer and placing it in their room. This gives your child full access to the dangers online. You should place the computer in a common area of the home as this will eliminate the chances of them navigating to questionable websites or chatting with people they do not know.
3. Parental Controls
There are a number of different parental controls available for your smartphone and computer, from your service provider, and also from software. You should utilize these resources to help protect your children online. Some of these programs allow you to block out use of the computer during certain times of the day and night.
4. Monitor Your Child's Social Media and Other Accounts
If you do not know the passwords to your child's social media accounts or instant messaging accounts, get them now. You should always have access to them and you can use them as a way to check in on your child and make sure they are not in danger. Don't ever hide from your child that you are accessing their accounts because this can breed a trust issue.
5. Navigate the Internet with Your Child
One way you can connect with your child and also see what they like to do online is to simply spend some time with them on the computer or their smartphone. You should encourage them to show you the sites they enjoy visiting and they two of you can play a game or you can ask them to show you how to play a game.
Your child will feel like you care about them and you are not just trying to watch over their shoulder. If they feel like you are online spying on them, they may shut you out and this can cause more harm than good.
The Internet is a dangerous place for children and it can lead them into a world of deception and deceit without them even knowing. Predators are scouring the Internet looking for young minds to corrupt. It is important that you play an active role in your child's life and educate them about the dangers and that you also monitor their activities. Learning how to protect your child online will help you keep them safe in situations where they may be in danger.