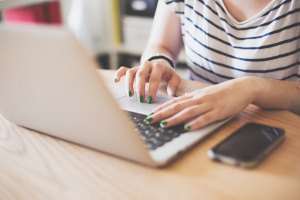 For those who might be tired of having multiple devices laying around in their workspace, or maybe just looking to consolidate everything onto their PC without having to look at their phone, checking and sending text messages can prove to be a challenge.
If your job is PC-based, then any second looking away from the computer means time and productivity lost (not to mention currying disfavor with one's boss). So, how can you stay connected and productive at the same time? Some of these solutions might work for you.
How to Read and Send Text Messages without Your Phone
MightyText
Perhaps the most popular communications "condensing" services is MightyText, a free app offered on the Android Market, as well as extensions for Chrome, Firefox, Safari, Opera, and dare I even say it… Internet Explorer web browsers.
Simply download and install the app on your Android phone, give permissions to the app for phone, contacts, and messages, and then enter your pertinent Google information. The app will sync with your Google contacts, as well as the phone number saved in your Android device. The final step is accessing mightytext.net/app through your web browser, or installing the correct web extension.
Effectively, all messages sent through the service can be checked and monitored inside your web browser, or from the same app installed on your tablet. Surprisingly, MightyText even works on international phone numbers, but be advised of potential roaming charges when sending texts from one country to another.
Options for MMS are available as well, sending photos, videos, contacts, calendar entries, as well as a multitude of other information. When finished, through the app on your smartphone you can select "unlink phone", and all the sent messages and files will be synchronized to your phone until your next connection to the app.
Google Voice and/or Hangouts
This classic VOIP and messaging system from our tech giant friends at Google is a practical solution for anyone using a US phone number. Google Voice will assign you a phone number that will work to forward all communication via voice and text to their servers and then to your devices.
The main benefit for this service is autonomy from your phone without losing touch with any of your conversations later. SMS messages are sent and stored over the internet through Google's servers, but will be received by anyone with SMS service enabled on their phone. So, you as the user can send, check, and receive SMS messages on your desktop or tablet either through the Google Voice website (www.google.com/voice) or through the "Hangouts" app or extension for most web browsers.
Google Voice also offers free calling to North American phone numbers, and the cheapest rates for international calling. One possible downside is the need to adopt whatever phone number Google decides to offer you. Another is its lack of availability for international phone numbers and IP addresses.
WhatsApp Web
WhatsApp has a growing hold on the North American tech user, and its popularity in Asia and South America is already spoken for. For the fastest and most data-economic option for texting through your phone and other devices, WhatsApp is your best bet.
The app must be installed through the Android or iOS market, then verified through an auto-detected SMS message. Once verified, messages can be sent to any other verified phone number in the world, providing the correct country code and adding the person to your Google contacts.
To use this app on your PC, simply go to web.whatsapp.com and scan the QR code with your phone while connected to the service. Once verified, all your texts and photos can be sent though the pop-up window of Whatsapp on your PC, all of which will sync to your phone.
Whatsapp is not currently available for tablets, but obtaining the .apk file and manually installing on a tablet will allow one to use the service, but will then invalidate the user on their cell phone. So, the only downside is the need to pick one device that is verified with your phone number. Apart from that, the Web app will allow you to use any other device to chat and exchange files with all of your contacts.
How to Read and Send Text Messages without Your Phone, hope that answered it for you!