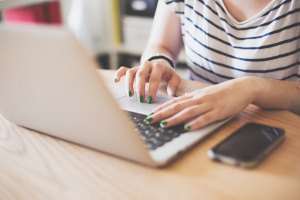 Are you trying to find out how to read text messages on the computer? Reading your messages on the computer is not difficult. All that will be needed is a software that will enable you to do so. The instructions for installing the software are simple and quite easy to follow.
Search for the Ideal Software
Using these text message apps is just as simple as sending a text message from your smartphone. To begin with, search for the ideal app using your favorite search engine. It is imperative to choose an application that is compatible with the operating system of your computer. This will make sure that the application will work properly.
Most sites will automatically detect and tell you which device's operating system you are using. They will recommend the right text messaging software for your device.
A couple of examples of text messages apps for Android would be, MightyText, Pushbullet and AirDroid. For iOS you can use iMessage if you have all iOS products.
Save the Software to your Computer
After you have selected the appropriate SMS app, download and save it to your PC. For easy access of the file create a shortcut in your desktop. After you have downloaded the software, install it according to the instructions. You will be shown the steps that you are required to take as you install your software.
Create an Account
Once you are done installing the SMS software, you will be required to create an account. Launch the app and click on the "sign up" or "register" to create your account. Again, you will be shown all the steps that you need to take to create your account.
Often, you will be asked your preferred user name, full name, mobile number and email address.  In order for them to confirm that you have provided a valid email address they will need to validate it by clicking a link they have sent to your mail inbox or entering a code they have also sent to your email.
Some of these text messaging applications offer sending and receiving of text messages for free. However, the recipient may be charged when replying. It is therefore imperative to read the terms and conditions of the software carefully prior to installing and using it.
Also, tell your friends about the extra charges so they won't be surprised when they get the billing statement from the network provider.
Apart from receiving, reading and sending text messages via your computer, it may also allow you to save your phone contacts on your PC in order to save time.
Other Alternatives
It should however be noted that the software that one will be using is at times not from the computer; but it is a program that must be installed on the phone of which the message ought to be read.
When it comes to sending and receiving text messages on your PC using an app from your phone, it is worth considering an android phone rather than an iPhone. This is because Apple devices do not allow third party devices to display or send your messages. However, you will be able to send or read iPhone text messages if the other device is Mac.
Mighty Text is one of the best android apps that let you send and receive text messages on your PC.
Now that you know how to read text messages on the computer, better make the most of your SMS usage by installing SMS software right away.