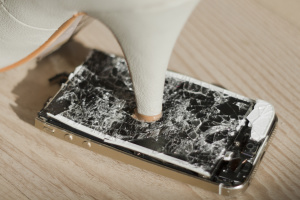 If you happen to ever lose valuable photos, messages, videos, call logs or any other data on your iPhone, then you need Dr. Fone for iOS. Data recovery does not get better than this outstanding app from Wondershare. Never be lost asking how to recover deleted data iPhone related again while Dr. Fone is available. This cross-platform desktop based recovery software runs on PC or Mac and can recover deleted data from your iPhone or Android, depending on which version you require.
iOS data recovery from either the device itself or Apple's cloud based storage backup of your device is supported, with the entire recovery process taking roughly ten minutes for the largest of files and seconds for one or two photos or messages.  Device support is extremely diverse, as is the range of files that can be recovered.
Dr. Fone is supported by the following iOS devices:
iPhone 6 / 6 Plus / 5S / 5C / 5 / 4S
iPad Air, iPad mini with Retina display, iPad Mini, iPad with Retina display, iPad 2
iPod touch 5
iPhone 4, iPhone 3GS, iPad 1, iPod touch 4
To Recover Deleted Data from your iPhone follow these simple steps:
Download and Install Dr.Fone for your desktop or Mac
Register the Software
Run Dr. Fone and Connect your iOS device via USB.
Select the basic categories of data that you wish to recover
Allow Dr. Fone to scan and reboot your device
You will be displayed with a preview of the data that you can recover
Confirm data to be recovered and click "Recover"
Wait for recovery to complete
Repair your iPhone or iPad with Dr. Fone's Operating System Repair
Even if you device has been physically broken, factory reset, if it has crashed or had its ROM flashed, no matter what state it is in, Dr. Fone can recover contacts, call history, calendar schedules, notes, reminders, Safari bookmarks, photo streams, voice memos, voicemails, application data from WhatsApp, iPhoto, Kindle, Keynote, iMovie and all of your messages and just about anything else that you can think of.
In addition to recovery, the Operating System Repair can also restore your faulty phone from many common inoperable states. If your device is locking up or freezing in any way, then often many users find that the simplest solution is to use Dr. Fone's Operating System Repair tool to scan your iPhone or iPad, and restore it to a working, optimal configuration. Stuck in recovery mode?
Dr. Fone can fix it! Sync issues? No problem, Dr. Fone has got that handled too! Even if you have lost your master password for your device, Dr. Fone can restore full access and functionality.
Great Support with Free Trial
Backed by a money-back guarantee, Wondershare's Dr. Fone is the very best mobile data recovery app available. Customer support is fantastic, you will have any queries addressed well within 24 hours. There is not much that can be questioned those, Dr. Fone is a highly intuitive tool that is straight-forward to recover with. The trial can be used to verify that Dr. Fone can recover your data, but rest assured that Dr. Fone can recover almost anything that you have lost or deleted on any iOS device.