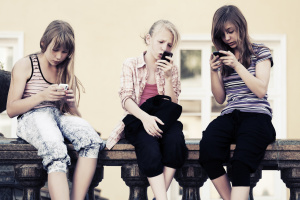 Bullying in all forms is a problem in today's society that needs to be addressed fully.
To ensure your child isn't being bullied, there are certain steps you can follow.
If you're wondering how to respond to cyber bullying, or just bullying in general, we've provided some great tips that can help to keep harassment at a bare minimum.
Respond Quickly
The first thing you should do as soon as you learn cyber bullying is happening is to act quickly. Do not sit on it, and instead contact those that have jurisdiction over the bullies.
You may want to get in touch with your child's teacher, or take it to the bully's parents. If it is really serious, you can even consider getting the police involved. Whatever approach you take, it's important you act quickly to minimize damage, and get the point across that bullying is not okay.
Talk Openly with Your Children
It is often the case that bullied children are too uncomfortable to talk openly to their parents about any bullying that is happening.
Because of this, it is very important that you are open with your children. Allow them to feel comfortable about talking to you about any issues they may have.
By gaining your child's trust and understanding, you'll be more likely to get the truth out of them when discussing sensitive matters such as bullying. Always be polite, sincere and reason with your child.
At the end of the day, you want to be there to support them, and if something is happening at school, it's always great for the child to know you truly care about what is happening.
Offer Support
Simply letting your child know that you are there for them if bullying does happen is more than enough to make them feel a little better than themselves, but don't just stop there.
Offer support to the whole classroom – if you know the bully personally, you may even want to talk to their parents or have a conversation with the bully themselves.
Children aren't inherently bad, and there are usually reasons why they may be bullying others. You may even be able to turn the cyber bully into a great potential friend for your child with a simple conversation and a bit of respect. The same message can be taught to your children as well.
Understand the Circumstances
There are often reasons behind why bullying may start in the first place. Understanding the entire situation better can help you to get a better idea of why the cyber bullying is taking place.
Once you have more knowledge of the situation, you'll have more tools to take matters into your own hands. It's always important to act rationally and deal with situations such as cyber bullying logically.
Whilst you may feel frustrated that another child may be trying to attack your own child online, taking a minute to understand the full picture is always something you should do before acting.
Using Monitoring Software
Sometimes, your child may feel very uncomfortable to share details about the bullying or their bullies with you. It's possible that the bullies may have threatened them if they told anybody, or they may simply be uncomfortable sharing details with you.
If you use monitoring software on your child's phone, you can keep an eye on messages sent to him or her without prying too far into their personal lives. This allows you to act appropriately if you do notice any harassment aimed towards your child.
Hopefully you now know how to respond to cyber bullying better. It is unfortunate that cyber bullying is such a large issue, but with the right approach, it can be dealt with.