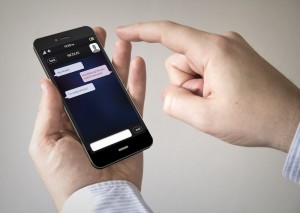 There are so many different plans left for us to choose from when it comes to sending texts, and sometimes, making a decision on which plan to use can be very difficult. Mobile carriers charge several dollars a month for unlimited plans which smartphone users with a love of texting will definitely go for. If you want to save some money on text messages, here are a few apps which  offer free text message services which you might want to try out.
How To Send Free Text Messages – 5 Apps to Solve the Problem
1. WhatsApp
With hundreds of millions of monthly active users, WhatsApp is no doubt the most popular free messaging app. The cross-platform app works with your existing number and also allows you to provide a username and a profile picture. The better part of it is, you can place calls directly through WhatsApp and send voice notes as well at a very low data cost. Other features include Group chats, multimedia sharing, ability to send map locations and a bunch of other nifty features.
WhatsApp is available on iOS, Android, Windows, Web
2. Viber
With over 200 million users, Viber is a completely free text messaging app with tons of additional features. Viber lets you liven up your text messages with very cool emoticons and stickers and also allows you to place voice or video calls. Recent app updates provide a myriad of additional stickers, along with the ability to create doodles, show read notifications, Viber Out enables to you call domestic/international non-Viber users are extremely low rates. Like WhatsApp, it works with your existing phone number and there is no need to sign up for anything
Viber is available on iOS, Android, BlackBerry, Windows Phone, Windows, Mac OS X, Linux
3. Facebook Messenger
Facebook Messenger is a free texting and chat application which lets you send text messages, have group chats, share media, make calls, and even leave voicemails. Though Facebook requires a Facebook account, it lets you switch between SMS text messages and Facebook messaging, making it very convenient sending and receiving messages on the go.
Facebook is available on iOS, Android, Web
4. WeChat
WeChat is a free text messaging up connecting half a billion people all over the world. WeChat does not only allow you to send text messages at no cost yet includes features like voice messages, group chats, Walkie Talkie Mode and video calling. It's shake feature allows you to exchange information such as photos and contacts with nearby friends. Users can also see if there is anyone around them also using the app.
WeChat is available on iOS, Android, Windows Phone, Symbian, Web, Windows, Mac OS X.
5. Skype
Skype has been there for several years now. It does just more than video-calling. It's one of the best fully-fledged and finest communication services around. Skype, not only lets you send text messages for free but lets you place voice and video calls to other Skype subscribers as well. You are also able to call standard phones at inexpensive rates.
Skype is available on Windows Phone, iOS, Android, Windows, Mac OS X, Web
These are not the only free texting apps out there. Be sure to check out Google, Hangouts, Apple iMessage, and Imo as well. These apps use the internet as a mode of communication but come at a cost – a very little insignificant cost. Let us know in the comments below if you have tried means of sending free text messages.