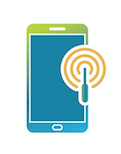 Finding a stable internet connection is still a hard thing to do especially when you're on the go. There are scenarios where you'd find yourself in dire need of a connection but then there's not a coffee shop in sight. What do you do in a situation like this? Do you wail in despair and give up on life? Of course not!
You'll start looking for a solution on how you can connect to the internet. Luckily, tech companies have foreseen this problem and have made steps to address it. Android has made an effort to solve this problem and it truly is a lifesaver!
Setting up your Android phone as a WiFi hotspot is easy and most importantly, effective! In this article, we'll be going through exactly how to do this so continue reading!
How to Set up your Android Phone as a WiFi Hotspot
What You Need
Go to your Android phone's Settings menu and you'll see Wireless Networks. Once you see that, tap More. Chose "Tethering and Portable Hotspot" after that tap "WiFi Hotspot".
You'll need to set up the connection if it's your first time using the feature but that's very simple and straightforward so you'll have no problems there. You'll require a name for the connection and a password for security purposes and other options will be available for editing as well.
Connect
Once your WiFi Hotspot is set up on your Android phone, all you need to do is connect your other device to it! There's nothing fancy about this step, simply connect to your phone similar to how you would connect to a normal network. Type in the password and you're good to go!
Things to Know
Now that you're connected to your Android phone, here are some things you'll need to know.
Watch out for how much data you use
Depending on your mobile data plan, you may only have a limited data capacity. If that's the case then you'll need to watch out for how much data you use. Watching videos and downloading apps or files are usually the biggest data consumers so avoid these activities if you need to conserve your data.
Watch out for hackers
We live in a technologically advanced time and that means people now have the tools to do great things but that also means people have the tools to do bad things. Being connected to the internet in a public place may be a risk so you should take all the necessary steps to protect your phone.
Watch out for your phone's battery
Using your Android phone as a WiFi Hotspot is really handy but it can take a toll on your phone's battery depending on how new your phone is. So make sure to keep your phone's battery in check when you turn it into a hotspot!
Now that you know how to turn your Android phone into a WiFi Hotspot, there's no need to scour for free WiFi! It's easy to do and can really save your skin when you least expect it. So go ahead and try it! Don't forget to share the knowledge with your friends because you never know when they'll need the info.