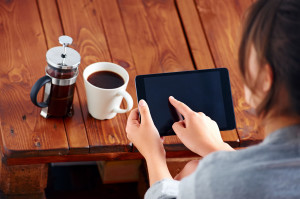 Safety is the number one concern for companies and parents when it comes to knowing how to spy on a tablet.  Tablets, like Apple iPad, Samsung Galaxy Note, and Windows Surface have started to take the place of computers in our everyday lives for work, education and recreational purposes.
As an employer, you now have to think about how does this change your workforce productivity that now have this accessible tool with so many capabilities.
As a parent, your fears of how to keep your child safe is now a bigger issue when they have access to a table which can be carried anywhere during anytime of the day.
Unfortunately neither your employer nor a parent can be everywhere to effectively watch and monitor the actions on your tablet.  Having the device comes with many positive features; it is very convenient for users of all ages to fall in love with.
At the same time, there are so many ways that people can easily take advantage of the device by visiting questionable sites or other inappropriate activities.  That is why it is important to use specific software on your tablet to help you keep a close eye on how it is being used.
Why Employers use Spy Software
For employees, tablets are used everywhere in the business world from various workplaces including warehouses, offices, construction sites and other career fields.  Most employers biggest concerns are the security of confidential information as well as work place productivity.  Both of these concerns come in jeopardy once an employee starts to visit unsecured sites that could steal data off the tablet, infect the tablet with a virus, or lead to inappropriate behavior.
Employers also worry about their workers who are not telling the truth, about their daily activity, like the hours they are working and if they are in the location that they claim to be in.  The right spyware will allow companies to monitor the employee Internet activity and some programs can even prohibit access to sites such as pornographic websites.
Why Parents Should use Spy Software
For parents, tablets are not just cute toys that can do no harm.  They know their child is in possession of something that can be used in a dangerous way.  Young teens have been known to give out personal information to stranger such as their address, school they attend, and even the hours they will be away from home.
Teens and young kids using an iPad on social networking sites like Facebook, Instagram, Snapchat, etc. can easily be taken advantage of by online predators.  They can also visit questionable online sites such as adult porn sites or do other inappropriate activities on their device such as taking nude photographs of themselves or receive questionable images.
How can you ever be sure your children are not contacting or being contacted by stranger with bad intentions?  With tablet-monitoring software you can control if instant messages will be allowed on the device.  Other features you can control is which websites can be viewed by adjusting the content filtering browser to block sites that are recommended above their age group.
Parents should be aware how to spy on a tablet to ensure their child protection and provide a secure way for them to use their tablet safely.