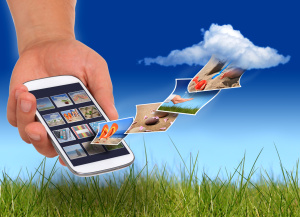 For anyone who has ever bought a new smartphone and needed their important data from their previous device, such as photos, videos, and app information, Android's Google sync services for contacts, installed apps, and emails might not be enough to restore everything that was on a previous device.
When trying to transfer large volumes of files, or large files, from one Android device to another, one has to get a little more involved. Let's take a brief look at a few ways that even beginner tech users can get their files from one android device to another.
How to Transfer Files from Android to Android
Google Drive
Most if not all new Android devices come pre-installed with Google Drive, a free cloud service offered on Google's servers with impressive storage capacity and no limit on individual file size.
Photos – within the options for the Drive app, you can select the "Auto Add" function to automatically save any photo taken by or stored on your Android device.
Documents – Drive works similarly to your laptop's own file explorer system. Either within the app or on the web (www.google.com/drive), the user can create and organize specific folders for file storage. These files can contain text documents, photos, videos, spreadsheets, and pretty much anything else. Simply select the document (in any format) you would like to save to drive on your phone, and by using the "share" function you can choose to "Save to Drive".
Large Files – Drive works in the same fashion for large files as well, such as .iso files and TV/movies. Just make sure to not exceed the amount of free storage offered by Google. In any case, purchasing a huge amount of extra cloud storage is extremely affordable, with Google offering 100GB for $2 a month, or even 1TB for $10 a month.
To transfer all these files, no matter the size, simply go to the file on your new phone in the Drive app, and select either "offline" or "download". Using a WiFi connection, your phone will sync all the files you select to your phone. Your new phone will also be able to access all the files on Google Drive without individually downloading them, assuming you have an Internet connection. Files can also be made available to other users by selecting the "Add People" option.
Bluetooth
Bluetooth is a feasible option for transferring small files, but won't necessarily cut it for large volumes of files. Simply by selecting "share" on files you want to transfer, you can choose the Bluetooth option to send to a paired Android device. This is also useful for sharing your files with friends' Android devices.
Third Party Apps
Apps like Zapya, when installed on both devices, will offer transfer speeds up to 200 times faster than standard Bluetooth. The best part is that many third party apps offer transfer service without a WiFi connection.
Simply install the app, a few of which are Zapya, CloneIt, and MobileTrans, on both devices. A few apps also offer service between Android devices and Windows/iOS.
With Zapya, you will need to create a group of devices that need to receive and send files. Simply add all the control device using the green button "Create Group", and from there use the red magnifying glass icon to add receiving devices. Once the devices are connected, you have the option to replicate the whole phone or transfer specific files.
Most of these apps are very straightforward and come with their own introduction when using for the first time. Anyone looking to transfer large volumes of files with no wires or Internet would do well to seek out an external app.
Certainly there is a host of other options for inter-Android transfer for files, but the options listed above will get you started in moving your files from one Android device to another.