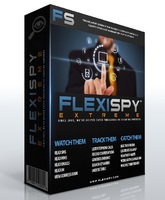 Previously, most mobile phone monitoring software provided the same features – SMS and call log monitoring. In recent years, phones have become much more advanced and there are now dozens of ways for smartphone owners to communicate with one another.
In 2015, one of the biggest trends will be instant messages and it's something that these software developers are trying to cater for. Most phone monitoring software does not provide IM tools, but you may be surprised to hear that you can monitor 13 instant messages with Flexispy.
FlexiSpy Monitor 13 Instant Messages
Flexispy currently holds the top spot for instant message monitoring, and there are very few other monitoring programs that provide a similar service.
mSpy has a monitoring support for just 5 IM apps, and besides MobileSpy, which can spy on 3 IM apps, there are very few other IM compatible apps out there.
As well as being able to monitor the most amount of IM apps, Flexispy is incredibly good at displaying the messages it captures in each IM application. In some of these software, the IM messages are not displayed completely or sometimes details are missing.
Display
Flexispy on the other hand displays messages in a clean, easy to read threaded format. Flexispy is also quite handy at monitoring any rich media that is sent. If a user sends a large amount of stickers on Facebook or emoticons on other IM apps, for example, Flexispy will be able to display these correctly.
Other competitors like mSpy fail to display rich media within IM apps properly, so it's clear that Flexispy has a grip over other spy software for this reason as well.
Flexispy may not be the best monitoring software for everything, but it certainly offers the most comprehensive IM monitoring tools available today. In 2015, IM apps will be used more than social networking, so it's important to find software that can monitor IM messages accurately.
For this reason, we suggest picking up Flexispy if you are in need of a comprehensive mobile phone monitoring software.
FlexiSpy Also Offers…
On top of being able to watch into IM messages, Flexispy can be used for reading sent and received SMS messages and call information.
Flexispy users are able to listen in to live calls and record calls to listen to at a later point in time. Flexipy is also capable of seeing app usage and internet history, and it can also pick up the GPS location of any devices it is monitoring.
Currently, Flexispy is available on Android, iPhone Blackberry and iPad. Some features are exclusive to certain platforms due to compatibility issues. If you are interested in learning about the full features of Flexispy and seeing what features your device can support, you can read up on it here.
If you are interested, you can also learn more about how Flexispy offers the most comprehensive IM monitoring experience by reading through the Flexispy review here.