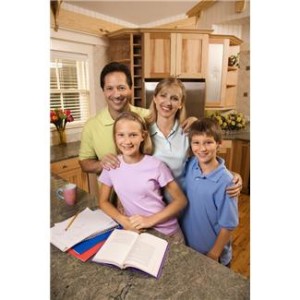 Cell phones are becoming more popular ad with the release of highly technological advances, cell phones are able to many of the things we do on a daily basis. You no longer need to have a GPS in your vehicle because your cell phone can do that. Just like many cell phones can synch to Bluetooth in your vehicle and you can answer calls hands-free. In this day and age, many people are addicted to cell phones.
It can be very difficult to pull your children away from texting their friends or surfing the web on their phone. Although this does keep them entertained, you want to maintain your close knit family and you want to enjoy time together. With a cell phone involved, it may seem very difficult. These tips will help you get your family time back.
1. Exercise
Exercising as a family will help promote a better lifestyle and the phone can be put away for this activity. It is a great way for the whole family to get involved with each other and start doing something as a family again. A family who works out together will stay healthy together.
You will notice the family bond growing stronger as you each choose different exercises to do together and all work towards a common goal.
2. Dinner
Dinner around the table is something that many families have done away with. In previous times, families would gather around the table and talk about their day. Today, families each take their food to their own rooms, watch television, and send text messages.
Start bringing back family time by placing all of the phones on the counter before dinner and sit around the table.  This will promote quality time and no one will have access to their phone.
3. Game Night
Set aside one night out of the week where you do something together as a family. Everyone shuts their phone off and spends an hour or two engaging in the activity. You can choose to play the Wii as a family or a simple game of Monopoly. This game night will help bring you guys back together and you can enjoy each other's competitive spirit and company.
4. Social Activity
Encourage the family to break the addiction to a cell phone by getting out and being active. Take a family trip somewhere every other weekend or participate in a family event every weekend. These events do not have to be expensive or huge and you can learn a lot about each other by simply tubing down the river.
5. Cooking
Cooking together is a great way to bring the family back together and rule out the cell phone. While using the phone may be tempting, choose a recipe that requires focus and a lot of hands on time. This will help keep your minds and hands busy so that you are not tempted to go over and pick up the phone. Once you are done cooking, sit around the table and enjoy the meal.
What do you do for family time? Would love to hear your ideas!