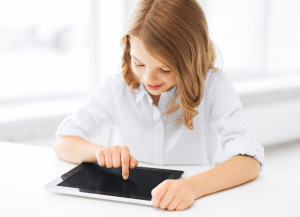 Prior to gifting your child an Android tablet, you should make sure that it is child safe and secure. There are numerous steps that you can take to ensure the safety of your child online. In addition to security measures, there are also applications freely available that can assist in securing your child's tablet.
One can even go as far as monitoring device usage, across all facets of operation. Software is available to monitor usage, and even allow you to remotely control their device should an emergency arise.
Here is our recommendation of the top apps that you should install and configure, prior to handing over a brand new Android tablet to your young ones, as well as basic setup instructions for when you first begin to configure your child's new device.
Basic Setup Instructions
Firstly one should create a user profile, unless of course your child is going to be the only user of the tablet. Navigate to Settings, then Users, then add a new user. Ensure that you opt for a restricted profile, as this will reveal many advanced configuration options such as disallowing certain applications, as well as content ratings.
It is also wise to setup a Google account specifically for your child, this makes things easy to keep an eye on as most new apps and services will be linked to the Google account present on the device. Ensure that you configure the Google Play store correctly, configuring the "Parental Controls" present under the Play store settings. It is also best to lock down these settings via a password, so that they cannot be modified.
Parental Control Applications
Here are three of the best apps out there to assist with securing your child's device. Each is an invaluable tool in its own right and none come at any cost at all.
Dinner Time Plus
Dinner Time Plus is a free app that is especially designed for parental control. It gives you the ability to configure a schedule of use for your child's device. A paid version of this app is also available, that allows for the control of up to eight devices. Dinner Time Plus not only allows you to schedule usage rules, but it also allows you to configure access to applications. It will let you lock every last feature of your Android tablet, if that is needed. Usage reports are also generated, giving you detailed insights into the habits of your child.
MamaBear
MamaBear describes itself as "The all-in-one worry-free parenting app". This fantastic free parenting app not only tells you were they are, via GPS, but even what speed they are travelling at! It truly monitors all aspects of your child's online interactions, alerting you to the use of offensive language, posts, and bullying. You can configure it to alert you upon a wide range of triggers, for example when your kid is tagged in a photo. This is a must-have parenting tool that will soon become essential in your daily habits.
Kytephone
Kytephone is an essential app for anyone gifting an especially young child an Android tablet or phone. It comes built in with a location tracker and transforms your device into a simple to use, kid friendly tool. It makes difficult tasks such as phone calls and photographs a snap, replacing the standard shell of your Android operating system with a bright, friendly and easy to use menu system. Kytephone is completely free and should definitely be looked at for younger users.