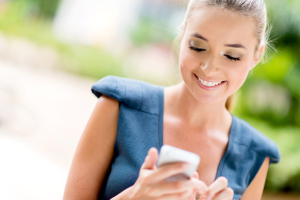 Throughout the history of Apple's iOS, there have been upgrades to the software that aims to make our lives just a little bit better. The feature to invert the colors of your iPhone is just one example since it makes reading in a dark room much easier.
There's an extensive list of upgrades and features such as this but there are a few that not just make our lives easier but are pretty darn cool for the most part.
One such feature is your iPhone's ability to read texts out loud. While being a quirky feature to use, it does help you in a variety of ways. For example, if you're driving and you receive an urgent message you can let your iPhone read it out loud so you won't have to look at your screen. There are other ways to use this feature but for now, we'll just teach you on how to activate it so your iPhone can start talking as soon as possible!
Let your iPhone do the talkingLet Your iPhone Read Your Texts Out Loud
 To get your iPhone talking just go to the Settings app. There you'll find the General tab and once you tap it, you'll see Accessibility. Tap that and go to Speech and then simply enable Speak Screen to give your iPhone the ability to talk. Once it's activated, you'll be able to swipe down with two fingers from any screen to let your iPhone start reading your text out loud. If it's too slow or fast for you, you can adjust the speed via the toolbar on display. You can even pause, rewind, or fast forward depending on what info you want to hear.
Best ways to use this feature 
Now that you've set it up what are the best ways to use this awesome feature? Sure you can use it to read texts but you can use this for other content as well such as Facebook posts, web articles, and e-books. In our experience, the Speak Screen feature is best used when reading texts and ebooks. It's great to use when you're busy in the kitchen cooking or cleaning and want to catch up on some reading. You can even use it to read out loud a specific recipe you want to learn while you're preparing the ingredients. It's really up to you on how and where to use it but all in all, it's a very versatile feature.
However, the Speak Screen feature is best used for some kinds of content only. If you decide to use this feature while reading a web article, it will read everything and this includes ads as well. So you may experience some weird transitions or hear things that aren't relevant to you. This goes to show that before you let your iPhone read any text, you need to be aware of what kind of text it is and what format it's using.
That's that
That's all there is to know about the Speak Screen feature! It's a great tool that helps you do some reading without having your iPhone permanently glued on your hand. While it has its limitations they aren't necessarily problems. You just need to know how and where to use the feature to make the most out of it! So get busy and let your iPhone do the talking for you! Let Your iPhone Read Your Texts Out Loud