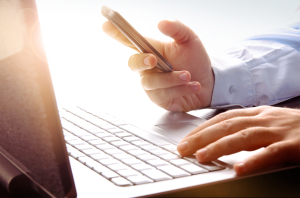 With today's smartphones, we rarely really need to switch on our PCs. But then the comfort of using a mouse and a full- sized physical keyboard is still required for day- to- day activities. And this is where the ability to mirror and control your android screen would come in handy. And there are other times when you simply need to project your smartphone screen for bigger audiences to view.
This can be made possible by either by connecting both the PC and the smartphone to the same Wi Fi or hardwiring the PC and smartphone using a USB.
Rooting your smartphone is an important step for the Wi- Fi option. Rooting allows the user to access every file running the android system, similar to whatever you find under the C drive Windows folder on your PC, if you are the administrator. Activating this option gives you administrator level privileges, and converting you into a Super- user!
The downside to rooting is that your smartphone becomes out of warranty because you are indirectly vouching to manage any security risks and any changes you make to the basic operating system. Google for "how to root your android" to get the customized solution for your smartphone.
Mirror Your Android – Let Your Smartphone Take a Moment to Reflect
Once you have rooted your smartphone, here are a few apps you can use to setup your screen mirroring and controlling:
MirrorOp
Download and install MirrorOp Sender app on your smartphone.
Download and install MirrorOp Receiver app on your PC.
Connect both the devices to a common wi- fi network.
Both the devices should automatically recognize each other through the installed apps.
Miracast
Download and install Miracast app on your smartphone.

Open the Miracast > Swipe towards the right > Project > Add a wireless device > Choose the wi- fi network.

Meanwhile, on your PC, search for Miracast receiver:

Settings > Devices > Connected devices (sidebar) > Add a device

On your smartphone

Miracast > Settings > Device > Display > Cast Screen > > Check Enable wireless display
Select your computer from the list of devices to begin casting
While wireless option is less of a hassle, you might be worried about rooting your device, because of the warranty defaulting. You may use the USB option in that case.
Android has a built facility that gives you some additional leeway for experimenting but is still somewhat safer than rooting a device. And that is by activating the Developer Options menu. Follow this path:
Settings > About phone > Tap on Build Number field 7 times

This activates the Developer Options

Settings > Developer Options > Check USB Debugging
Here are a few choice of apps with wired connection:
ApowerMirror
Download and install APowerMirror – Mirror&Control app on your smartphone
Download and Install APowerMirror companion app on your PC.
Launch both the app in the respective devices.
While on the USB Connection tab, connect your smartphone to your PC using the USB.
Android- Screen Monitor or DroidScreen
Ensure Java is up to date on your PC.
Download and install Android Screen Monitor on your smartphone.
Download and install Android Software Development Kit (SDK) on your PC.
Open Android SDK > Check Android SDK Platform Tools > Install Packages
Connect your smartphone to your PC via the USB.
Control Panel > System and Security > System > Advanced System Settings

Advanced tab > Environmental Variables > Click on Path under System Variables list > Edit
Enter C:\Program Files (x86)\Android\android-sdkplatform-tools
Click OK
This process set the ADB path which gives permission to the PC to interact with your smartphone's operating system without rooting the device.

Download and install Android- Screen Monitor or DroidScreen app on your PC.
Vysor (only Google Chrome compatible)
This is a Google Chrome extension on PC that collaborates with the Vysor app on your smartphone.
Download and install Vysor app on your smartphone.
On your PC

Open Google Chrome > Go to Chrome Webstore > Search for Vysor > Add to Chrome

Connect your phone to your PC via a USB.
On your PC

Open Vysor extension on Chrome > Find Devices > Select your smartphone

On your smartphone

Click OK when you get a prompt about allowing your PC to carry out USB Debugging
It is up to you to decide as per your convenience and confidence in your technical expertise.
Mirror Your Android – Let Your Smartphone Take a Moment to Reflect