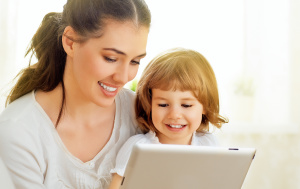 In this era, being connected is a necessity. And the Millenials and Generation Z have access to a phone earlier than any one of us today. Therefore it is important to make them understand what is safe and what is not.
Mobile Phone Safety for Your Kids – Tell them, "Know Your Risks!"
Use only for emergencies
Yes, in this fast world, every child needs to know how to operate a mobile phone in the event of an emergency. And if you choose to as a parent to provide them with a phone, one that carries out the basic functions (talking and texting) should be sufficient. It is essential to teach them that it is a tool only for communication purposes. If you do invest in a smartphone, the plans required to keep it running would be expensive and it might be used by them for many other reasons like taking photos, posting on social networks and inviting unwanted trouble.
Moreover with Internet of Things being more and more prevalent, there is enough radiation we are exposed to on a daily basis. It is best if we play our part to reduce the amount of signals they are open to. Some children may be matured to understand the dangers. Then it is up to the parent to assess the situation and the individual and do the needful.
You be the master of your child's phone
You have decided to buy your child a phone. You first understand the multiple functions of the phone to understand how to give them freedom while keeping your child's actions restricted. For e.g. be educated about the types of apps or security options to lock the phones when not in use, the available privacy settings on phone and by the service provider.
Rules are the same in person and on the phone—don't talk to strangers!
For ages our elders have been advising us not to talk to strangers. In this fast world, it has not changed. Any unknown numbers or text messages with unusual content should be notified to the parent or guardian. Children must be told that sharing their personal information, photos or phone numbers should not be given out or publicly posted. They need to understand that it is easier to track them down if culprits have their number.
If any incident happens, ensure that you do not take the phone away from them as the first step to their punishment. Instead, help them understand that you are there to support them and let them learn from their mistake. Change their phone number. Or block the culprit's phone number. You could also block your child's phone number from appearing on outgoing calls as a proactive measure.
Cyberbullying
Unfortunately, cyberbullying is extremely common in this connected world. The culprit would be sending disturbing messages or spreading rumours, causing mental depression to your child. It is crucial that you have open channels of communication with your child to understand their feelings about school and their friends. Any change in behaviour would be easier to notice this way.
In an event of facing a culprit
If your child has to face a thief, advise the child to hand the phone over. Remember to record the IMEI number as soon as acquiring their phone. This can be used when filing a police complaint.