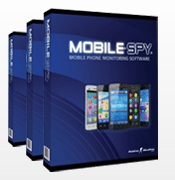 MobileSpy is no longer available!
Check out our Top 7 Monitoring Software – reviewed side by side.
Want to find out if MobileSpy is for you? Monitoring your child or employee's phone is one way of keeping an eye on them and making sure they are doing what needs to be done and not getting into trouble. Many parents and employees are unaware of what their employees and children are actually doing on their phone.
A company work phone is ideal because you can get a hold of your employees when you need to. However, what would happen if your employees were not using the phone for work purposes only? What if your child was talking to people on the phone that they never met? These can be inconvenient and scary situations.
MobileSpy is a way of monitoring what your child or employee is doing on their phone without letting them know. You can conveniently look at the search history, chat logs, and phone record to see how your company time is being used and whom your child is talking to.
There are many different monitoring programs out there for cell phones but the most important thing you can remember is to find one that has the features you need. Not every program will offer every single feature and some are more basic than other programs. A quick comparison of the pros and cons will help you decide which program is right for you.
Pros of MobileSpy
1. Test the Product
One of the many benefits of MobileSpy is that you can test the product out. The company offers a free trial, which will help you decide whether you like the program. This trial period lasts for 7 days and you will be able to use the features and functions.
2. Stealthy
This program is great because it cannot be detected. Your employee or child will never even know this program is on the phone unless you tell them.
3. Notifications and Alerts
This program is set aside from others because it allows you to set notifications and alerts for different things. You can choose to have the program alert you when profanity is used or when the phone travels beyond a certain preset destination.
4. GPS Location
GPS location will allow you to monitor where your child is and where your employees go. This is like your second set of eyes that can follow them wherever they go.
Cons of MobileSpy
1. Application Blocking
While the program allows you to block some applications, the list is not very extensive. Sometimes blocking applications on the phone is necessary especially for curious eyes. Many applications out there contain profanity, illegal activities, and pornography. Blocking them is one-step closer to further protecting your children and the company phone; however MobileSpy does not have this feature.
2. Remote Control
MobileSpy does not have an option for remote control access to the phone. Remote control access will allow you to turn the phone off and control it remotely.
MobileSpy Overall
MobileSpy is overall a great program to use to watch what your children and employees are doing. The program contains many good features, but is missing a couple that you may deem more important than others.