Hello,
You probably expected a positive MobileSpy review here but let me explain what`s going on.
Late September 2014 one of the monitoring software`s CEO got in legal trouble. It was indicated that they were marketing their software in an illegal way. Due to this there has been a "stir" in the market.
It is understandable that other companies, like MobileSpy, will make the changes and updates necessary to their products and websites.
What we don`t agree with is how this has been done by MobileSpy. We have gotten lots of comments and messages from MobileSpy users that are not happy with the way they are handling things. These are just a couple of things people are upset with.
Stealth mode is no longer available.
They have bought the software with a 6 month or 12 month subscription and now MobileSpy are updating the product and stealth mode is no longer an option.
"I`m very disappointed and out $100"
People can not log into their accounts because the site is down… At this point we don`t know when MobilSpy and their other sites will be up.
We do not longer recommend this MobileSpy product.
We suggest that you take a closer look at one of the other monitoring software on the market. Top 7 monitoring software reviewed.
Updated January 2015 MobileSpy is currently not available 
We recommend you taking a look at the mSpy product instead - mSpy review
Mobile Spy Review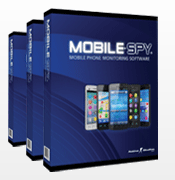 Website: mobile-spy
Guarantee: 7 Day Trial
Price:  fr. $49.97 for 3 months
Mobile Spy Product Overview:
Due to the new updates MobileSpy 7.0 does NOT operate in stealth mode, some of the features are also removed.
The product has been on the market since 2003 and is based in the US. This product has helped thousands and thousands of people just like you to monitor and protect their children and employees. Mobile Spy helps parents sleep better at night knowing that they do everything they can to protect their child.
Here is a quick overview of what Mobile Spy can do:
Monitor text messages
Log call details
Monitor social media like Facebook, Twitter and Pinterest
Track GPS location
Website monitoring
Photos and video log
Mobile Spy Benefits
Benefits for a Parent – Using MobileSpy is like adding an extra insurance for your child. This is the tool that helps you keep your child safe. The world is a scary place, use Mobile Spy to help you protect your child. Has your teenager showed signs of making bad decisions? Keep an eye on them… With MobileSpy at your side you can sleep well at night knowing where your teenager is at.
Benefits for a Business Owner – It`s impossible to follow your employees around, MobileSpy will help you keep an eye on them to make sure they are going where they are suppose to during work hours. MobileSpy help you build a team of trusted employees where you pay for work done and not private surfing or Facebook interaction. This software can help your company be more profitable.
Mobile Spy Features
With the new version Mobile Spy 7.0 performance is improved, some new features are added as well. The new features monitor:
MMS
Kik messenger
Skype conversations,
Viber messages
Call Log
The app can monitor all the received and dialed phone numbers in your targeted phone. The length of the phone call time and date are also logged. Knowing what numbers are called and how often can help you see a pattern.
With this feature you can also see if there are numbers/contacts showing up that you are not aware of. Who do they call? When do they call? How long are the calls?
MobileSpy will not record the actual call, if this is something you would like to have included in your monitoring software we suggest that you take a look at mSpy.  mSpy will allow you to record the actual phone conversation.
View Text Messages
With MobileSpy you can view all the text messages, word by word, send and received. Even though the text messages get deleted they will still show up in your control panel.
Today a lot of our communication is done via text messages, knowing that your kids are handling this in a appropriate way and not getting bullied or sucked into inappropriate texting activities can save you many sleepless nights.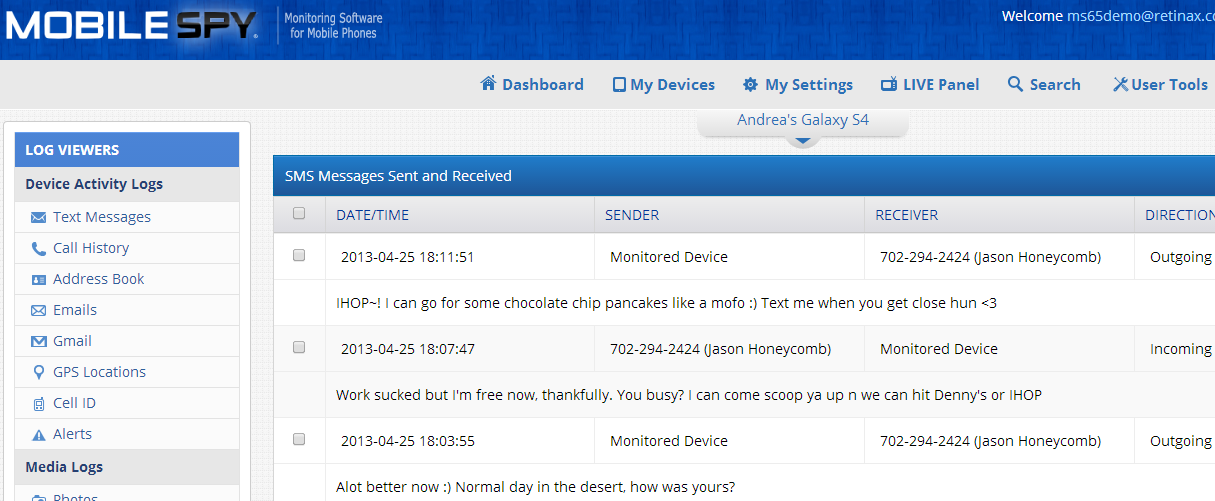 GPS Location Monitoring
This feature is one of the most important aspects in monitoring. With GPS tracking, you can identify the exact position your target is. Get to know the route your target used and if he/she has reached the destination they said they were going to!
If you have employees that are suppose to be certain places make sure that`s where they go. If your child spend the night at a friend`s house, you can make sure that`s exactly where he or she is at.

View Emails
MobileSpy will allow you to view the emails send and received from the primary email account on the targeted phone. At this time this feature is only available for iPhone and Blackberry.
To be able to read the emails can help you protect invaluable company data, you can see if your employees are keeping your company secrets to them selves.
Gmail – if your target is using Gmail on his or her phone you will be able to access these messages as well. You can see who the message is to/from, date and the actual content of the email. Works with iPhones and Android rooted phones only.

Monitor Internet Use
Whichever webpage your target visits, will be reflected on your account. Therefore, this app will help you know if they are doing something constructive on the internet or not. You can make sure that your kids are on kid friendly sites and does not venture of to sites they are not suppose to be on.

Monitor Instant Messages and Social Networking Chats
When it comes to monitoring instant messages it feels like MobileSpy is falling behind some of their competitors. They do offer instant message monitoring but you have to check if it works with your targeted phone. Same thing goes for the social media chats like Facebook chat, Twitter and WhatsApp chat.
This is the instant messages and social media chats that MobileSpy monitor on each one of these phones.
iPhone – iMessages, Facebook and WhatsApp
Android (rooted phones only) – Facebook, WhatsApp and Twitter
BlackBerry – BlackBerry Pin Messages,  BlackBerry Messenger (BBM), Yahoo, G-talk, Windows Live, and AOL.
Who do they chat with?

View and Block Some Applications
With MobileSpy you can see all the apps installed on the phone. There are many harmful apps on the market today so to view these and even be able to block some of them have its advantages. Now they only block some applications so be sure to check with MobileSpy if there is a specific app you would like to block. This service will work with iPhone and Android phones only.

View Calender, Contacts, Photos and Videos
By installing this program, you will be able to access all the data content like calendar and memos saved in your targets' phone. Secondly, all the other files saved in the phone like music, videos and photos can be monitored by this app. This means, whatever your kid or employee has planned on his calendar or memo can be accessed secretly by you.
Remote Control of the Device
With some of the monitoring softwares you can remotely look the phone down or even wipe the data off the phone. This can come in handy if you lose the phone, you can lock it down until it`s back in the right hands. It can also be a way to control the phone usage. This is not something that MobileSpy offers, it this is something you want included then take a look at the mSpy software.
Alerts and Notifications
To be able to set alerts and notifications are a great feature. This will allow you to receive certain data when it is needed.
Here are a list of the alerts you can set with MobileSpy:

If you want to keep your child safe, this is a must have tool. By setting these alerts you can also be honest and upfront with your child. Let them know that you install the software and if they are following the rules and no alerts goes off you will give them their freedom. If any of the alerts does go off let them know that you will take a look at the phone data.
Stealth Mode
With the updated 7.0 version, MobileSpy does NO longer operate in stealth mode. Your child or employee will be aware of the monitoring software on their phone.
MobileSpy Live Control Panel
The mobilespy live will allow you to see the actual screen on the device. This feature updates every 90 seconds, so if you truly want to see what`s going on this is a great add on for you.
With the new 7.0 version they do not offer record surroundings and stealth camera. What they do offer live is:
View the screen
Instant GPS
Send Commands
Alarm On/Off
The live control panel will also allow you to lock and unlock the device. If you are a parent this can come in very handy you can lock the device the hours you don`t want your child to have access to his or her phone. If the phone get stolen or lost, you can lock it until it`s back in the right hands.
You can also have your logs send to your email. This can be convenient if you don`t want to check in on your control panel on a regular basis.
What Sets MobileSpy Apart From Their Competitors?
A lot of these monitoring softwares offer similar features, but what is it that sets MobileSpy apart from mSpy and other competitors?
1. Free Trial – MobileSpy is the only monitoring software we have found that will actually allow you to try the product before you purchase it. They offer a 7 day trial.
2. MobileSpy is part of Retina X that has been on the market since 1997. This proves that this is not a product that will disappear anytime soon. The product is backed up by an american company with a phone number displayed on their website. (Believe me not all monitoring softwares will display a number where you can reach them).
MobileSpy Drawbacks
With this software you can not listen to the calls made or received, this is a feature that some of the other monitoring software offer.
If you monitor an Android device you can not view emails send and received, this is also something that most monitoring software offer.
When it comes to the social media and chat functions make sure that you can monitor what ever it is you would like to monitor with the specific phone. Skype and Viber are two common chats that are not included in the software, that`s something we think they`re lacking. Great update May 2014 – Skype and Viber monitoring is now available.
It all comes down to what features you need… If you are a parent MobileSpy is a good option for you. If you are a business owner wanting to monitor company phones I would suggest you take a look at the mSpy business version.
MobileSpy Products
Some of the monitoring software offers many different options depending on what features you want included some also has different products for different phones. This was something that MobileSpy stayed away from, only offering two subscription options, but has now decided to follow the same trend as their competitors. Since May 2014 MobileSpy offer multiple payment options for their basic and premium product.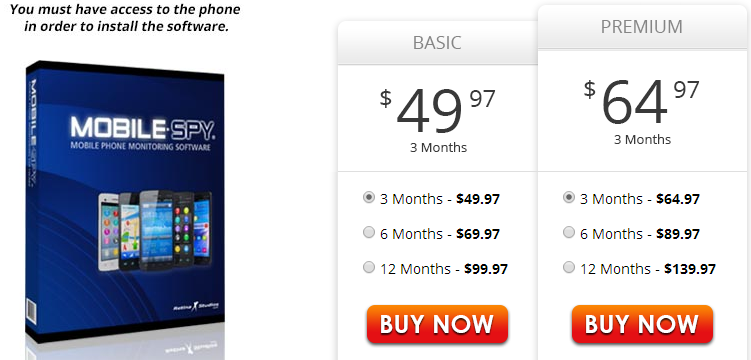 MobileSpy Compatibility
Most smartphones are compatible with this software.
iPhones, Android, Blackberry, Symbians and Windows operated phones can be monitored using MobileSpy.  Make sure the specific model of the phone that you want to monitor is compatible as well.
Tablets – iPad and some of the other tablets are also compatible with MobileSpy, make sure you check your model before purchase.
Mobile Spy Installation Process
After installation, the app monitor the activities to your online account and you can retrieve all the details when you log in.
MobileSpy Pros/Cons
Mobile Spy Pros
The Features Above – this is one of the most complette software for your cell phone.
Free Trial – MobileSpy offer a 7 day free trial so that you can try the product out and see if this is for you or not.
Ease of Use – the software is easy to install and use.
The MobileSpy software very convenient, as your app account can be accessed from anywhere in the globe as long as you have your password and a user name. Monitor and track whoever you want today with Mobile spy tracking software.
Mobile Spy Cons
Is there anything negative about this software. We found a few things to look into.
Compatibility – the software is compatible with most iPhones, Androids, Blackberries, Windows and Symbian OS phones. You do want to double check on their website so that your phone is compatible with MobileSpy.
Phone access – with any cell phone spy software you will have to access the  phone to install it.
MobileSpy Customer Support
Live technical support, you can call 1-888-475-5345 seven days a week.
You can also chat with support on their website this feature is also available every day of the week.
Another option to get hold of support is to open a support ticket to get your questions answered.
Price
With a price tag of $49.97 for 3 months or 12 months for $99.97 Mobile Spy Basic is highly competitive when we look at the price. They also have a premium option, 3 months for $64.97 and 12 months for $139.97.
It will all come down to what features you need. With that being said if we compare the top MobileSpy product with mSpy that charge $199.99 for their 12 months premium service and Stealth Genie that charge $199.99 for their 12 month platinum, MobileSpy gives great value.
Mobile Spy Final Verdict
Overall MobileSpy is a great cell phone monitoring software. Great features with an affordable price tag. You have to decide if this product has the features you are looking for…
Website: mobile-spy
Guarantee: 7 Day Trial
Price:  fr. $49.97 for 3 months