Hello,
You probably expected a positive MobileSpy review here but let me explain what`s going on.
Late September one of the monitoring software`s CEO got in legal trouble. It was indicated that they were marketing their software in an illegal way. Due to this there has been a "stir" in the market.
It is understandable that other companies, like MobileSpy, will make the changes and updates necessary to their products and websites.
What we don`t agree with is how this has been done by MobileSpy. We have gotten lots of comments and messages from MobileSpy users that are not happy with the way they are handling things. These are just a couple of things people are upset with.
Stealth mode is no longer available.
They have bought the software with a 6 month or 12 month subscription and now MobileSpy are updating the product and stealth mode is no longer an option.
"I`m very disappointed and out $100"
People can not log into their accounts because the site is down… At this point we don`t know when MobilSpy and their other sites will be up.
We do not longer recommend this MobileSpy product.
We suggest that you take a closer look at one of the other monitoring software on the market. Top 7 monitoring software reviewed.
Updated October 2014 MobileSpy is currently not available 
We recommend you taking a look at the mSpy product instead - mSpy review
Mobile Spy Review 2014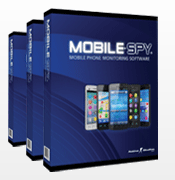 Website: mobile-spy
Price:  $49 for 3 months
Due to the new updates MobileSpy 7.0 does NOT operate in stealth mode, some of the features are also removed.
We suggest that you take a look at the mSpy Software – They offer more features and you can try it out for $39.
Mobile Spy Product Overview:
MobileSpy is one of the market leaders when it comes to cell phone monitoring. The product has been on the market since 2003 and is based in the US. This product has helped thousands and thousands of people just like you to monitor a loved one.
Here is a quick overview of what Mobile Spy can do:
Silently monitor text messages
Log call details
Monitor social media like Facebook, Twitter and Pinterest
Track GPS location
Website monitoring
Photos and video log
Mobile Spy Benefits
Benefits for a Parent – Using MobileSpy is like adding an extra insurance for your child. This is the tool that helps you keep your child safe. The world is a scary place use this program to help you protect your child. Has your teenager showed signs of making bad decisions? Keep an eye on them… With MobileSpy at your side you can sleep well at night knowing where your teenager is at.
Benefits for a Business Owner – It`s impossible to follow your employees around, MobileSpy will help you keep an eye on them to make sure they are going where they are suppose to during work hours. MobileSpy help you build a team of trusted employees where you pay for work done and not private surfing or Facebook interaction. This software can help your company be more profitable.
Mobile Spy Features
Call logs and message logs: The app can monitor all the      received and dialed calls in your targets phone. All the conversation made can be monitored including the time and duration of the conversation. In addition, all the received and sent messages, word by word, can be tracked by this app. This gives you an upper hand in knowing what your target is up to.
View data and multimedia content: By installing this program, you will be able to access all the data content like calendar and memos saved in your targets' phone. Secondly, all the other files saved in the phone like music, videos and photos can be monitored by this app. This means, whatever your spouse, kid or employee has planned on his calendar or memo can be accessed secretly by you.
View internet access, chat services and email logs: Whichever webpage your target visits, will be reflected on your account. Therefore, this app will help you know if they are doing something constructive on the internet or not. Who do they chat with on G-talk, BBM and other email services? This can be answered clearly by this spying software.
GPS tracking and Remote Monitoring:  This feature is one of the most important aspects in monitoring. With GPS tracking, you can identify the exact position your target is. Get to know the route your target used and if he/she has reached the destination they said they were going to!
There are other important aspects also that this app offer to its users. These are:
Application blocking which includes remote blocking and uninstalling of apps secretly.
Viewing installed applications
The software independently works in stealth mode and gives all the results you need about your target. Even if your target tried to obliterate their usage history, the recorded data will still be available.
MobileSpy Compatibility
Most smartphones are compatible with this software.
iPhones, Android, Blackberry, Symbians and Windows operated phones can be monitored using MobileSpy.  Make sure the specific model of the phone that you want to monitor is compatible as well.
Tablets – iPad and some of the other tablets are also compatible with MobileSpy, make sure you check your model before purchase.
Mobile Spy Installation Process
After installation, the app secretly taps all the activities to your online account and you can retrieve all the details when you log in.
MobileSpy Pros/Cons
Mobile Spy Pros
The Features Above – this is the most complette software for your cell phone.
Free Trial – MobileSpy offer a 7 day free trial so that you can try the product out and see if this is for you or not.
Ease of Use – the software is easy to install and use.
Screenshot from MobileSpy: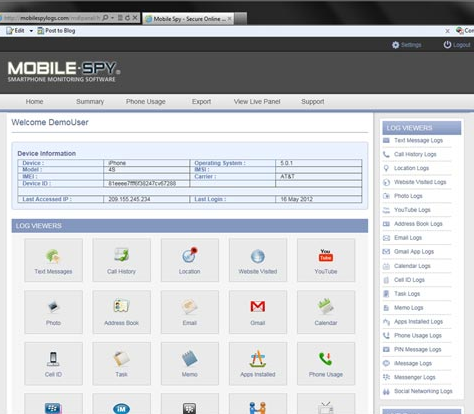 The MobileSpy software very convenient, as your app account can be accessed from anywhere in the globe as long as you have your password and a user name. Monitor and track whoever you want today with Mobile spy tracking software.
Mobile Spy Cons
So is there anything negative about this software. We found a few things to look into.
Cost – the software does have a 7 day free trial. After that it cost $49.97 for a 3 month plan or $99.97 for a yearly plan. This might be well worth it and it is one of the more affordable cell phone monitor software but that is up to you to decide.
Compatibility – the software is compatible with most iPhones, Androids, Blackberries, Windows and Symbian OS phones. You do want to double check on their website so that your phone is compatible with MobileSpy.
Phone access – with any cell phone spy software you will have to access the targeted phone to install it.
MobileSpy Customer Support
Live technical support, you can call 1-888-475-5345 seven days a week.
You can also chat with support on their website this feature is also available every day of the week.
Another option to get hold of support is to open a support ticket to get your questions answered.
Mobile Spy Final Verdict
Overall MobileSpy is our top pick for cell phone monitoring software. Great features with an affordable price tag.
Website: mobile-spy
Price:  $49 for 3 months