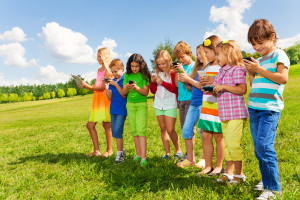 If you are concerned your children are doing something they shouldn't with their smartphone or tablet, you may want to consider installing an app that can monitor kids iPhone activity and then send the data straight to you. There are many great parental security apps out there, and in this article we take a look at 3 options for use on an iPhone.
PhoneSheriff
If you have a young child that you would like to protect from the dangers of the internet, PhoneSheriff will be able to help you monitor and control everything possible to ensure you are keeping your child safe online.
PhoneSheriff can monitor texts, iMessages, web browsing and other details, and can also filter websites and apps you aren't comfortable with your child using. PhoneSheriff can also keep track of what photos or videos are being taken, and can keep track of GPS location and contact/call information.
PhoneSheriff costs $49 for a 6 month subscription and $89 for a year of usage.
Find My Kids – Footprints
Whilst you may be concerned about what your child may be doing at home with his or her iPhone, it's also understandable to want to know where your child is whilst they are away from home too. If your child is acting strangely when asked about where they've spent their day, you may want to install Find My Kids Footprints – this is an app that takes advantage of an iPhones GPS to remotely update you of your child's location constantly.
This is the only thing it will do though, track the GPS location of the phone. If you want to be able to view text messages, see call log, set alerts then you might want to take a look at some of the other options. StealthGenie is a better alternative, for example.
With Find My Kids Footprints, you will receive a free 3 months trial, but after that there is a cheap monthly subscription. Looking at the reviews though I would stay away from this product, here`s what a few people has to say about it…
Rip off
Today, the bloody things don't work!
Rubbish
TeenSafe for iPhone
If you're wondering who your child is sending messages to, or where their credit is being drained, TeenSafe for iPhone will help you find out everything there is to know about who your child is talking to.
TeenSafe has a subscription, but there is a one week trial available so that you can find out whether the app does the job you're looking for. On top of being able to monitor your child's sent messages, it can recover and store deleted messages, share browsing history and keep track of your child's call logs and contact list, whilst also being able to showcase your child's location via the iPhone's GPS.
These apps have been designed to specifically monitor kids iPhone activity, so you should find at least one of them to be useful to you, but if you want better parental controls, you may want to have a look at these advanced iPhone and cellular monitoring software.