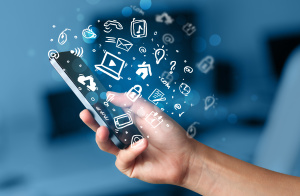 If you are looking to monitor Skype, there are a few options you can use to ensure everything shared between the person you are monitoring and their contacts is directed straight to you.
If you are using the communications software via a smartphone, you may want to pick up a decent cell phone spy software. Two examples include Flexispy and mSpy, and we'll be giving a bit of an insight into both of these programs below.
Can Flexispy Monitor Skype?
Because of the way Skype works, not everything can be monitored as easily as other apps. However, with that being said, there is a lot this monitoring software can do with Skype. Firstly, you are able to view Skype chats, so any IMs sent will be directed to the dashboard.
With FlexiSpy you can also view call details, although you cannot listen in on calls or play previous calls. If you're curious about the details of the Skype contacts on the account you are monitoring, you can view their friend's status messages and names.
You can also exclusively view all emoticons and stickers to ensure your IM chat messages are as accurate as possible. Finally, you can view and download all of the information available straight from a single dashboard.
Here is a summary of the features this monitoring software can provide for Skype –
View Skype chats including profile pictures and names
View Skype call details like who they talk to
View their friends' status messages
View all emoticons and stickers— only FlexiSPY offers this feature
View and download captured data from FlexiSPY dashboard
Can mSpy Monitor Skype?
Fortunately, it is possible to keep track of Skype happenings on more than just one monitoring software, and mSpy is a great example of this. mSpy is one of the only monitoring programs available today that can provide a wide range of monitoring features for non-jailbroken iOS devices. One such feature is Skype monitoring.
You are capable of viewing details about previous Skype calls. You can read through Skype chats, and you can also access all of this information from a central control panel.
Whilst you can't listen to actual calls on Skype, you can view who has been calling and contacting the Skype account you are monitoring. Being able to view contact and friend details, as well as IM chats is more than enough to get a good picture of what's going on.
Here is a summary of the features this monitoring software can provide for Skype –
Track Skype calls
Read Skype chats
Access information directly from a control panel
View Skype activity on non-jailbroken iOS devices
Both mSpy and Flexispy are great monitoring solutions for cell phones. Both of the aforementioned mobile programs offer a wide range of features for a subscription fee.
It is completely possible to monitor Skype on either of these two programs, and there are very few features that are not available. Whilst both offer fairly similar Skype features, you may want to look at their other features before picking out one option over the other.