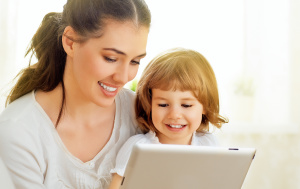 There are many reasons why you might want to monitor tablet activity. Whether you're running a business and want to keep an eye on what your employees are doing in their lunch break, or you have a child that you'd like to keep away from bad websites on the internet, tablet monitoring software can come in handy.
Tablet monitoring software can be used to restrict certain content and also to monitor everything that happens on the device. There are a few apps available that can be used to monitor your tablet, and in this article we take a look at what some of these apps are.
mSpy
mSpy is a great software setup that allows you to perform a wide range of functions – as well as controlling what websites are viewable, mSpy can track emails, provide information on web searches, and even monitor what apps are being downloaded and installed. mSpy also works amazingly well for smartphones and cell phones thanks to the extensive SMS and contact monitoring services the software is packaged with.
mSpy costs $59.99 for a 3 month subscription, and the company that provides the software has also released a business orientated version for specifically monitoring employee web and app usage.
MobileSpy – no longer available 
MobileSpy is another great monitoring software that can be used on smartphones as well as tablets, however, MobileSpy ends up being slightly cheaper, at just $49.97 for three months of subscription.
Similarly to mSpy, with MobileSpy you will be able to monitor all web activity, app activity and keep track of any incoming data. MobileSpy also comes with a range of smartphone and SMS monitoring features, making it a great choice for monitoring a variety of different devices.
MobileSpy has been around since 2003, and is one of the most trusted mobile and tablet monitoring services.
PeekTab – no longer available
PeekTab was designed by the same company as MobileSpy to offer full exclusive control over Android tablets and iPads. Whilst the same $49.97 price tag for 3 month's subscription applies for PeekTab, there are a range of monitoring controls that focus exclusively on tablet usage, making it a better choice for those looking to explicitly monitor web data, emails, app data and other information on a tablet whilst blocking certain apps and websites.
PeekTab can also be used to monitor data and files on the device, including photos, videos and calendar information.
If you want to learn more about the three software packages we have mentioned, or discover more tablet monitoring apps, feel free to check out our tablet monitoring comparison chart. Whilst we suggest choosing from the three we listed above, there are many other software packages from different companies available as well. Each service offers different features and at a different price tag, however the average price is between $49.97 and $59.99 for three month's subscription.
There is no doubt that you will find at least one useful app on the chart that can help you to monitor tablet activity effectively and efficiently.