This mSpy review details one of the most talked-about data monitoring software products on the market today.
This product positions itself as a solution for parents who wish to monitor their children's smartphone use. It also tailors its application to business owners (with their business solution) who wish to keep track of what employees are accessing with company-owned phones.
mSpy Review 2016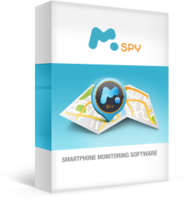 Overall Ranking: 9/10
Website: mSpy
Money Back Guarantee: Yes, 10 days
Price: Basic 3 month $59.99 – Premium 1 month $69.99
Product Demo: Yes
NEW – No jailbreak required for iPhone. You will need the Apple ID and password.
mSpy Product Overview
The software provides the user a look inside each and every bit of data sent, received and downloaded onto a phone. The data remains available in the online account even after it is deleted from the device being monitored. Here are few ideas of the information that can be monitored with this software.
Monitor messages: Read text messages, emails and instant messages sent via Skype, WhatsApp and iMessage
Review calls: Access call logs, call duration and timestamps. In addition, record incoming or outgoing calls associated with predefined numbers.
Track activity: See GPS locations, review web browsing history and see photos, calendars and address books
Benefits
Benefits for Parents – the world is becoming a scary place and as a parent you want to do everything you can to protect your kids. mSpy will allow you to sleep better at night because you know where your kids are at all times. The program will allow you to help your children stay out of trouble. It will also help you catch online issues before they get out of hand. mSpy will help you keep an extra eye on your children, keeping them safe.
Benefits for Employer – mSpy has a special business package that will help you keep your company data safe. You can make sure that your employees are productive and not taking care of personal issues while working. If you have staff on the road you can make sure they are where they are suppose to be. mSpy will keep an eye on your employees so that you can focus on what`s important.

Features
Monitor Calls
To monitor calls is one of the basic features included in most monitoring softwares and mSpy is no exception. With this product you can see whom the call is to or from, as long as the name is included in the address book it will show in the call logs. You can also see how long the call is and when it was made.
This can be very helpful to make sure your employees are taking care of business and not making too many long personal calls during work hours. This can also be a great help to parents to make sure that your child is not talking to "strangers". It can be very dangerous to take online chat conversations offline and with this feature you can keep an extra eye on who they are talking to.

Restrict Incoming Calls
With mSpy you can also restrict the incoming calls, you can block them to make sure your kids are not staying in touch with people they shouldn`t.

Call Recordings – No Longer Available
In October 2014, mSpy removed this feature.
Call recordings can be set to record all phone calls OR phone calls made to or from specific numbers. When the call is recorded you can chose to listen to it directly from the control panel or you can download it to your computer. When we do this review, this feature is working with Android smart phones and tablets only.
This can come in handy if you have that funny feeling that something is going on but you can`t really put your finger on it. Listening in on employees calls can stop you from losing invaluable company data to sources that should never get access to it. If you are a parent it can help you save your child from getting into deep trouble.

Read Text Messages
Today a lot of our communication is done by texting, reading send and received text messages can give you a lot of information. With the software you can find out if the text message is send or received, the number or name of the person that they are communicating with. If the name is in the address book it will show up in the control panel under name. You will also see the full text message and when it was send.
Track GPS Location
With mSpy you can see the location of the phone on a easy to read map.  You can also see the rout history within a specific amount of time.
If your child is out driving by themselves knowing where they are will make you sleep better at night. This can also help keep track of your employees if they go on delivery for you.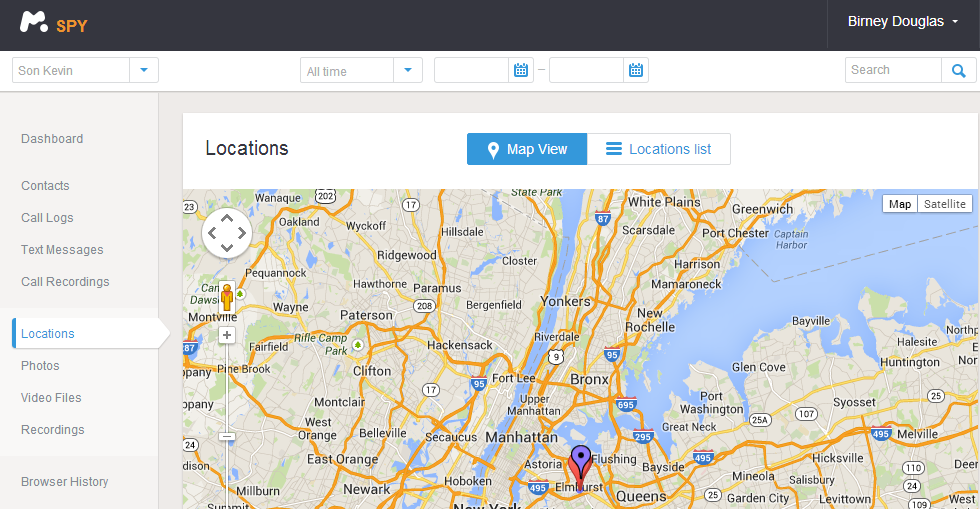 Read Emails
You can also read incoming and outgoing emails, the content of the email, when it was send or received and if the contact is listed in the address book you can even see whom it`s to or from.
Today we communicate via texting, chat and emails. Knowing whats being said in those emails can help your child stay safe and out of trouble.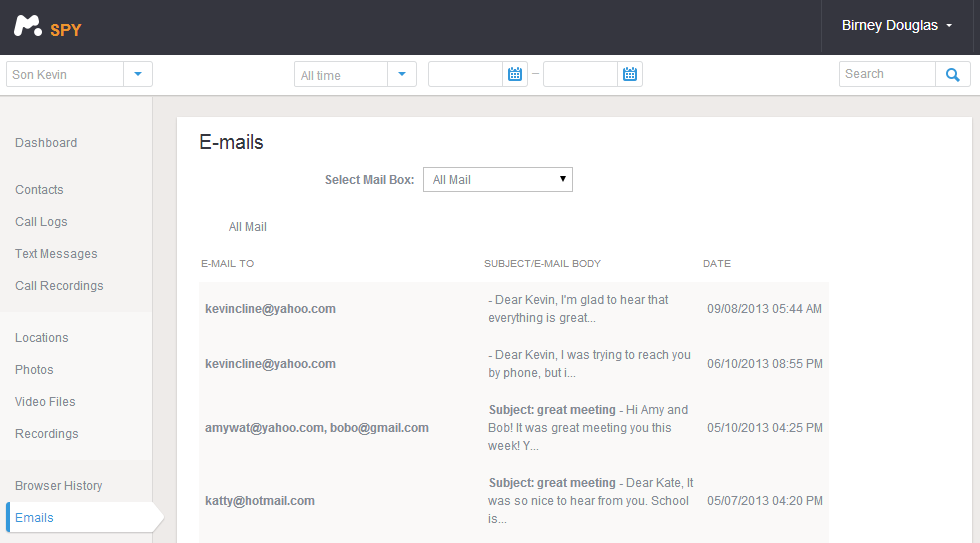 Monitor Internet Activities
This software allows you to monitor the internet use. You can see website visited and when the website was accessed.
This can be an invaluable feature to make sure that your employees are actually working and not spending their time surfing the internet. As a parent you can make sure your child visit safe websites. mSpy also allows you to block websites this is a way to take safety a step further.
View Instant Messages
These instant message platforms can be monitored:
Skype – track calls and see chat (Works with iPhone/iPad only)
WhatsApp – view chat
iMessage – read chat  (Works with iPhone/iPad only)
Facebook – view chat (Works with Android only)
Viber – see sent and received text messages (Works with Android only)
As you can see some of them only work with iOS and some only work with Android, this is something mSpy needs to look at and hopefully find a solution to soon.

Calendar and Contacts
This software records all the calendar activities and contacts from the address book you can access them right in your control panel. This means that you can see all meetings scheduled and see all names and numbers from the address book.

View Photos and Videos
Both photos and videos that are downloaded or taken with the device can be viewed using the mSpy software. Today cyber bullying is a reality, we know that kids take pictures and videos that might not be meant to be seen or shared by others. Avoid the media getting into the wrong hands.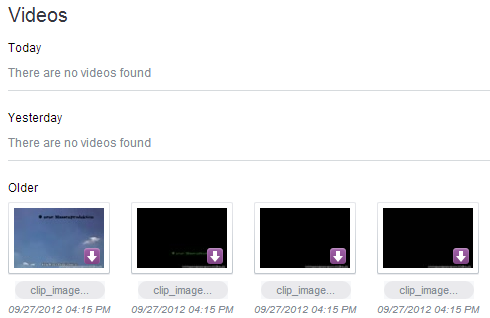 Remote Control of the Device
There are two options when it comes to closing the phone down remotely. You can use the device whipe out, be aware though that this is irreversible. You can also lock down the phone remotely.
This comes in handy if the phone happens to get stolen or get into the wrong hands.


The Following Features Set mSpy Apart From Their Competitors
Control and Block Apps and Other Programs
One of the more interesting features of this software is the ability to control apps and other programs. For parents monitoring children, this provides a great parental lock tool or alternative route to monitor the time spent playing games. For business owners monitoring employees, this helps circumvent the download of applications that pose security threats to proprietary data. This innovative feature is not found on other systems. Spyera has a similar feature but not as advanced as mSpy.

Analyse With Reports
The analysis feature also seems fairly impressive. This tool allows the person in charge of monitoring to take a look into multiple devices. The reports can be filtered by time period, device, activity, a particular user or a group of users. The information is available for download into .csv, .xls or .pdf.
If all you are looking for is to read text messages and track gps location then this might not be of importance to you BUT if you are tracking more than one device this will come in handy. This is another feature that sets mSpy apart from their competitors.
Latest News
With mSpy`s latest version you can now monitor Wi-Fi, you can see every Wi-Fi hotspot that the device has been connected to.
Another new feature with the latest update is SnapChat monitoring. You can actually see the content sent or received and when it was done.

What Is mSpy Missing?
mSpy is an advanced monitoring software but if we compare it to its competitors there are a few things we are missing.
Chat functions – some of the chat functions are only available for Android OR iPhones. If there is a specific chat you want to monitor make sure it works with your phone.
Alert settings – another function mSpy is lacking is alert settings. With some products you can set alerts on suspicious words and phone numbers. This comes in handy if you want your child to have their privacy but are ready to access their phone data if the alerts goes off.
It comes down to what features are important to you?
Compatibility
iOS – compatible with all iOS versions (no jailbreak)
iPhone 6
iPhone 5
iPhone 4S
iPhone 4
iPhone 3GS
iPhone 3G
iPhone
The phone must be running iOS 6 – 8.1.2 (jailbreak version)
To be on the safe side you do want to check so the iPhone model you are monitoring is compatible, click here to check compatibility.
Android
HTC
Samsung
LG
Motorola
Sony Ericson
The phone must be running Android 4+
To be on the safe side you do want to check so the Android phone you are monitoring is compatible, click here to check compatibility.
Blackberry
Blackberry Curve
Blackberry Bold
Blackberry Pearl
Blackberry Storm
To be on the safe side you do want to check so the Blackberry phone you are monitoring is compatible, click here to check compatibility.
Windows
HP iPAQ 610c
HTC Touch Cruise
HTC Touch
Samsung i900 Omnia
HTC Touch Diamond
To be on the safe side you do want to check so the Windows phone you are monitoring is compatible, click here to check compatibility.
Symbian
Nokian N95 8GB
Nokia N81 8GB
Nokia E65
Nokia 5800 Navigation Edition
Nokia E63
Just a few of the Symbian phones that are compatible make sure you check that your phone is compatible, click here.

Installation Process
Here is a screen shot from the mSpy website of the installation process:

 mSpy Pros/Cons
Pros
Jailbreak and no jailbreak version
Features
The innovated features are unique for mSpy and if you use these it is money well spend.
Keep Data Secure
Of course, data security is at a premium nowadays. The device wipeout feature on this product allows a user to remotely delete data from a device. This action removes sensitive data when a phone is lost or stolen. Because this is a permanent and rather drastic action, the product also comes with a locked device feature. This capability allows the user to remotely lock the monitored device, allowing time for a lost phone to be found yet still protecting the data.
Control Panel
Another considerations include the control panel looks, which very much like iTunes. It has a clean, organized lay out and is intuitive and easy to use.
Price
For some time mSpy was more expensive then their competitors. The mSpy team has now adjusted this and offer a basic version to a very reasonable price.
Cons
Chat functions
mSpy need to take a look at the chat functions and make sure that Skype, iMessage, Facebook and Viber chats are available on all smart phones.
1 month subscription no longer available
mSpy used to offer a 1 month subscription which was a great way for users to try out the product and see if it was for them, this is no longer available.
Money back guarantee
I have heard from two people that said mSpy tried to prolong the process when they wanted their money back. The process back and forth took longer than 10 days and therefor they did not get their money back.
I just want to be completely honest with you on this one… Do your research read through this page and make sure this is the software for you. If it is then you are good to go.
Customer Support
The software comes with a dedicated customer support line that is available via phone and web chat 24 hours a day, seven days a week.
You can also contact the support team via email support@mspy.com
mSpy has been in business since 2011. It might not seem that long but they have taken a market share with innovated features and an advanced business product they have proven that they are here to stay.

Products and Prices
So what products does mSpy offer and to what price?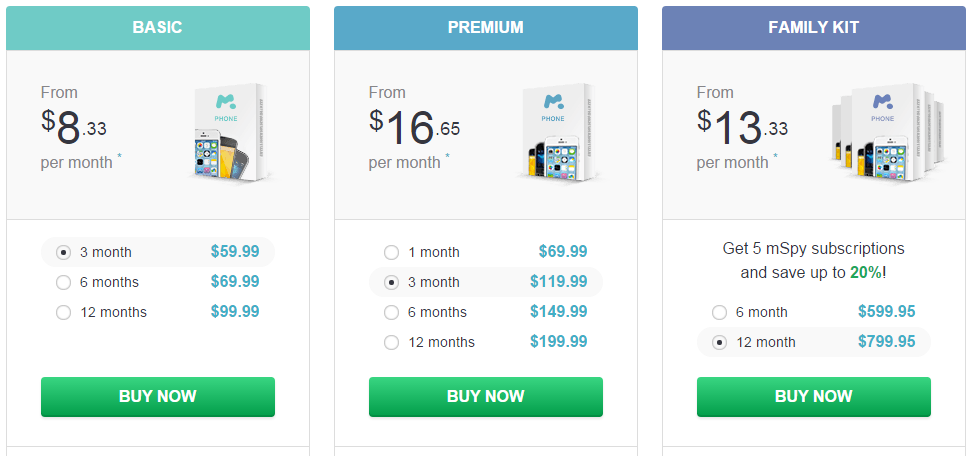 To see what`s included in the packages please visit the mspy website.
As you can see mSpy offers 3 packages Basic, Premium and Family Kit. Depending on your needs.
Final Verdict
mSpy listened to their customers and offer now both a basic and a premium option for the private person along with the business package. With a quality product and a reasonable price, this has put mSpy in the top and they are today considered one of the leaders when it comes to monitoring softwares.
Overall Ranking: 9/10
Website: mSpy
Money Back Guarantee: Yes, 10 days
Price: Price: Basic 1 month $39.99 – Premium 1 month $69.99
Product Demo: Yes
Would I Recommend This To a Friend: Yes

Have you tried mSpy? We want to hear from you! Feel free to leave your review!