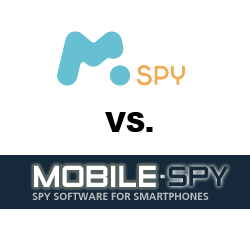 MobileSpy is NO longer available. We recommend mSpy, you can read the full mSpy review here!
mSpy and MobileSpy are two of the top monitoring software that allow you to monitor cell phone usage. Both of these products offer each person different features that are needed. This article, mSpy vs MobileSpy, will give you a small breakdown of the different categories to help you choose the best software for your home or business.
It can be difficult to choose a cell phone monitoring service when you begin looking. It is important to know exactly what it is you want and what you are looking for. There are many different products out there and each one has its own pricing, features, support, and more. When you begin looking for a monitoring software, you want to make sure that you choose one that is solid and will perform the way you need it to. This means the software should fit into your budget, needs, and lifestyle.
mSpy vs MobileSpy Features
mSpy
mSpy offers many different features to those who use it. The features are all easy to use and will help you monitor exactly what it is you need to monitor and keep an eye on. Some of the features are:
Tracking of text
GPS location tracker
Analyzed reports
Ability to view and read emails
Instant message log
Record call logs
Monitor the web use
Control the phone remotely
View multimedia files
Block programs and applications
View address book and calendar
Record and view instant messages
Record surroundings
MobileSpy
MobileSpy offers you a plethora of features to allow you to watch your children and employees with ease. You will feel more comfortable being able to watch them and keep an eye out on what they are doing. This program will help you discover the truth behind what is going on. Some of the features include:
Record surroundings
View photos and videos on the phone
GPS locator
View and read text messages
Takes secret pictures
Has a live control panel
View call information
See what is viewed on YouTube
View social networking
Monitor web activity
View Gmail
Monitor contacts, tasks, and calendar
Monitor email
Application control
Block applications
And much more!
Feature Differences
So what features set these two software apart? Here are a few of them…
With mSpy you can listen in live to the surrounding, which means that you live can here what people talk about even when they are not on the phone. You can also listen to call recordings.
MobileSpy offers stealth camera, which means you can take pictures with the monitored phone.
Another area where these two differ is social media and instant messages.
mSpy will monitor Skype and Viber messages. The Skype function is only available on iPhones and iPads. The Viber function only with Android devices.
MobileSpy monitors Twitter on Android rooted devices.
Both software will allow you to see iMessages, WhatsApp and Facebook chats and more. If this is important to you check so it is compatible with the phone you are monitoring.
mSpy will allow you to wipe all data off the monitored phone this is something that MobileSpy does not offer.
Usability
Usability is important when it comes to monitoring software. If you cannot navigate and use the software, there is no point in having it. The program will be of no use to you when it cannot be used correctly. A program that is too hard to figure out or use will only drive customers away.
Both mSpy and MobileSpy are easy to use and have a number of different tools to help each individual get the program installed. The programs offer a control panel which allows you to control the phone and also view the data received from the phone. This control panel is perfect and is usually just one click and you have your answer type of system.
mSpy Control Panel
MobileSpy Control Panel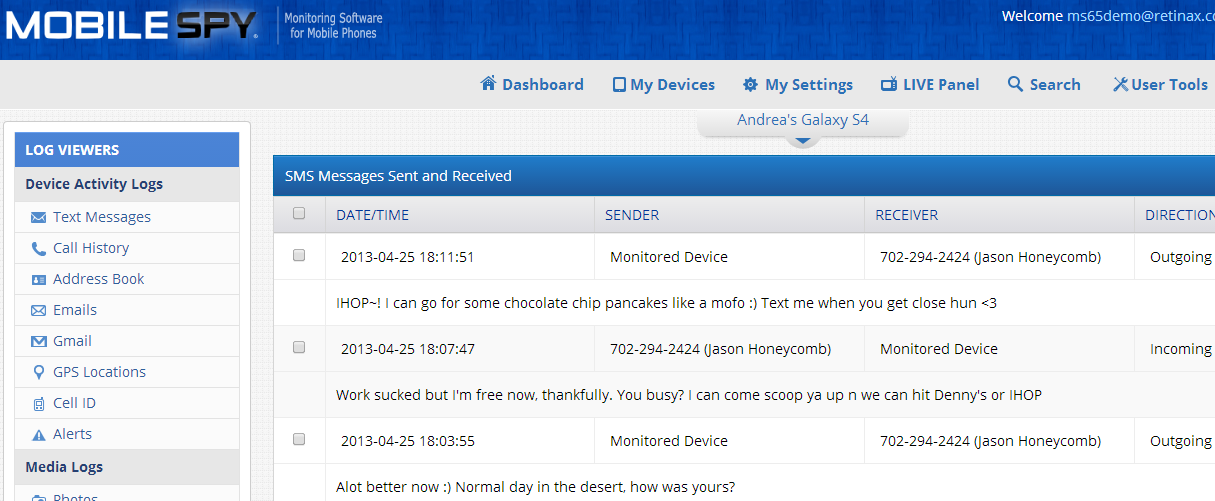 Compatibility
Both MobileSpy and mSpy are compatible with most all phones including Android and iPhone platforms. They are also compatible with most major phone networks including AT&T, T-Mobile, Sprint, and more.
mSpy vs MobileSpy Support
MobileSpy offers customers a technical support line that is available during business hours 7 days a week. They also offer live chat 24/7, a FAQ section, and more. You will have access to the user guide and forum as a way to help facilitate locating information to help you out.
mSpy also offers live chat support to its customers. They offer support through the telephone and through email.
Both of the companies offer a great support system to customers but MobileSpy has the better support section as you can call at your convenience, chat online, and even view the different support articles and questions online.
mSpy vs MobileSpy Pricing
Pricing is always a concern that many people have and it should be factored into your budget when you are looking for a monitoring service.
mSpy offers a couple of different pricing plans for personal use and one primary plan for business use. The business plan is for either 6 months or 12 months. The 6 month price is $499.95. The personal plans come in either basic or premium. The basic version is $39.99 a month or it can be purchased in a 3 month increment. The premium plan is $69.99 a month and come in increments of 3, 6, or 12 months.
MobileSpy offers you a couple of different plans. The first plan is for a 3 month license and is $49.97 for those months. The 12 month package is $99.97 and is available for a full year. The last plan is or 12 months of use plus a live panel and this plan costs $139.97.
MobileSpy is beneficial to purchase because you purchase the license for the set fee. Once you purchase the license, you can use it for that length of time. The company also allows you to add additional features to your plan to help enhance your experience. The other nice part is that the plan can be extended as needed and you are not just limited to a one license, one time usage.
Conclusion
This is a close one, both MobileSpy and mSpy offers great features. In the end it comes down to what features YOU need. If you need a monitoring software for your business I would say go with the mSpy business option. If you are a parent or loved one it really depends on what you want the program to do for you.
The pricing for both software are reasonable. If price is important to you going with MobileSpy to help you maximize your money and savings might be your best option.
Both of the programs offer 24 hour 7 day a week live chat services which are perfect in case you run into a problem installing or using the program.
It is important to look over all of the features and positives about a program before purchasing it. You will be able to rest easy and know that your children are doing what they are supposed to and your employees are getting the job done with a great program such as MobileSpy or mSpy.
We want to know what you think mSpy vs MobileSpy, which one is your choice, feel free to leave a comment below!