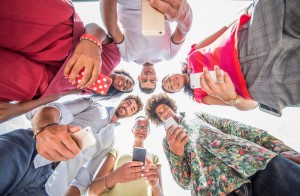 Teens and kids love to have their own communication schemes, full of acronyms and shorthand that do not make sense to several adults. Most teenagers' text messages are made up of seemingly jumbled letters, numbers and punctuation.
The introduction of fully-blown QWERTY keyboards, predictive texting and autocorrect has handed some young folks the opportunity to type full words. However, texting slangs will continue to live on, as they are a way to pass on information discretely or text faster.
To help you in your mission to decipher the meaning of your kids' text speak, I've compiled a list of popular terms and slangs with their meanings. Some of them may be a little shocking, but that's just a tip of the iceberg.
Must Know Texting Slang, If You Have Teenagers
Safe To Say
OMG/ZOMG: Oh my God
UW/YW: You're welcome
TU/TY: Thank you
TTYL: Talk to you later
TMRW: Tomorrow
IMO: In my opinion
IDK: I don't know
HAND: Have a nice day
BTW: By the way
BRB: Be right back
ATM: At the moment
DWBH: Don't worry, Be happy
FB: Facebook
IKR: I know, right?
K/KK: Okay
NM: Nothing much
NMU: Nothing much, you?
PPL: People
ROTFL: Rolling on the floor laughing
LOL: Laughing out Loud
SMH: Shaking my head
WB: Welcome back
RT: Retweet
PTB: Please text back
ORLY: Oh, really?
OPT: On the phone
Your Teen Is Hiding Something
MOS: Mom over shoulder
POS: Parents over shoulder
P811: Parent alert
PAL/W: Parents are listening/watching
KPC: Keeping parents clueless
Dirty Talk
ILU, 143, 459: I love you
SWAK: Sealed with a kiss
WTPA: Where there party at
IWSN: I want sex now
NIFOC: Nude in front of the computer
TDTM: Talk dirty to me
1174: Invitation to a wild party
KOTL: Kiss on the lips
420/4life: Marijuana
KFY/K4U: Kiss for you
GYPO: Get your pants off
*K*: Kiss
53x: Sex
YWTHM/LM/KM: You want to hug me / love me / kiss me
Umfriend: Intimate partner
LUWAMH: Love you with all my heart
LOL: Lots of love
CYA: Cover your ass
Privacy Risk
F2F: Face to Face (In person or video chat)
WUF: Where you from?
WYCM: Will you call me?
WYRN: What's your real name?
ASL: Age/Sex/Location
LMIRL: Let's meet in real life
MOOS: Member of the opposite sex
MOSS: Member of the same sex
NAZ: Name/Address/Zip
RU/18: Are you over 18?
ASLP: Age/Sex/Location/Picture
CFS: Care for secret?
FYEO: For your eyes only
There are literally unlimited acronyms we haven't listed in this article. If you want to know more, visit Safe Surfing Kids or Netlingo for a frequently updated list of texting slangs and their meanings.
If you're worried as a parent about who your kid texting, or your teens' safety online, this article suggests several apps which will enable you monitor their phone, but before you do that, I suggest you get closer to your kids, talk to them and follow them on any social sites they use.