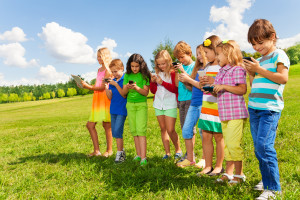 The average teenager in the US sends and receives at least 3,000 texts every month. That translates to more than 5 texts per hour. This scenario is really common, and texting habits like these can be very difficult to do away with, even when parents and teachers set rules at home or school.
It's unbelievable to see how much time and money most kids spend on their phone – texting, downloading apps and streaming videos. There are several ways to stop your kids from excessive texting. Here are 5 ways to do it.
My Kids are Texting all the Time, 5 Ways to Stop It
1. Sign a Phone Contract
The best and most basic way to curb the issue of over-texting is to put what your expectation is regarding cell phone use into writing. Making a cell phone contract is a great way to discuss and lay out rules on the do's and don't of your kids' talk time.
You can make agreements on when and how long they can use their phone and who they can speak with.
2. Teach Them Self-Control
To teach your kids self-control, try making little rules they can observe. You can set rules like no texting at the dining table or dining room, no texting between certain hours, no texting while walking, etc.
Remember teaching them self-control will spill over into other areas of their life as well.
3. Keep Them Active
The best way to get kids off their phones is to limit their free time. That doesn't mean you need to ensure they don't have downtimes at all, rather, keeping them engaged in activities which will leave them with no choice but to put their phones away.
This can include asking your kids to help you shop, playing a board game together or taking a walk around the neighborhood.
4. Buy Prepaid Minutes
One way of limiting your kid's talk time buy them prepaid minutes instead of a monthly plan. Once they exhaust their minutes, their phone won't work until you pay more money.
You can allow them to purchase extra minutes at their own expense, but most kids learn how to limit their talk time once they know they have to use their own money.
5. Use a Cell Provider
A simple solution to prevent your kids from texting all the time is to limit your teen's ability to text. You can have an agreement with your cell phone provider to have parental controls added to your kid's phone number.
This service costs a few extra dollars each month but allows you to set the texting limits, block incoming or outgoing calls to certain phone numbers, suspending the phone service at the certain times of the day (or night) and utilize GPS to see where your child is calling from.
Studies have proved that constant texting can affect kids hand and wrist functions, as well cause insomnia, get poorer grades in school and increase their levels of anxiety. Make sure as a parent, you limit your kids' texting with these tips above.
My Kids are Texting all the Time, 5 Ways to Stop It… What's your best tip?