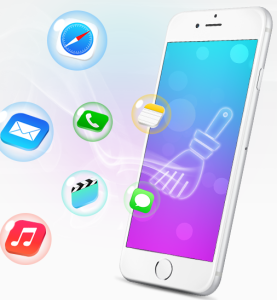 When it comes to your iPhone, you want to make sure it's performing at its best. A slow iPhone can be extremely frustrating at times but what most people fail to realize is that there are tools available that can fix this problem. First, we need to identify the problem.
What Causes Your iPhone to Slow Down?
There are various factors that can contribute to your iPhone slowing down but in most cases it's because of unwanted files and data. In simple words, it's junk. Your iPhone's memory can only handle so much junk before it starts to slow it down. One way to clean out junk is by deleting unwanted apps and files. You can check how much free storage you have left and how much space an app uses by going to Settings then General then Storage and iCloud Usage. Did your iPhone's performance improve after deleting some apps? Awesome! If not, keep reading.
Cleaning Up the Junk
As we said earlier, unwanted files and data equals junk. That leaves us with one thing to do: cleaning it up. The caches (specifically Safari cache) on your iPhone are part of this so one thing you can do is to delete it. (Note: when you delete your Safari cache, all saved passwords and history will be deleted) To delete the cache, all you have to do is go to Settings once again and go to Safari. Scroll down to find Clear History and Website Data and then tap it. Voila! You just cleaned out some of the junk in your iPhone.
iPhone Cleaning Apps to Help You
Are deleting apps and caches not enough to boost the performance of your iPhone? No worries, there are apps that you can download to clean up your iPhone and even boost its performance!
The first app that we would like to recommend is Power Clean. It's a free cleaning tool for your iPhone that cleans out photos with bad quality, monitors and manages your data usage, and tests your network speed. It can also clean your cache to optimize the use of your iPhone.
Do you view your iPhone's sluggishness as a sickness? Then Battery Doctor is the app for you. It's one of the biggest cleaning apps with more than 50 million users worldwide because it allows you to clean your iPhone with ease.  Not only does it clean your iPhone for you but it also serves as a booster for your device. Try it out and see if it works well for you!
For those of you who want to clean your iPhone using your laptop or computer, you can do that as well with PhoneClean. It's a program that scans your iPhone and cleans it accordingly. All you need to do is download the program, plug in your iPhone, and scan it to start cleaning! Easy right?
There you have it, folks! Remember, it's always a good idea to know what you download and how you use your iPhone to really optimize its performance. Good day and we hope this helped you!