Protecting your kids and keeping them safe on the Internet can prove to be difficult especially since there are many different ways to access the Internet. It is not impossible for kids to work around general parental settings as there is always some type of loop hole. This can allow your children to view websites that are inappropriate and full of negative content.
Website: Net Nanny for iOS

Free Trial: No there is a free trial for Android users but not for iOS users.
Price: $4.99 through iTunes
When choosing a software to monitor your child's use on the phone or Internet it is important to pick one that is packed full of features and has different security measures in place to avoid accidental mis-clicking and exposure to questionable material.
The Net Nanny for iOS is a software program that will allow you to view what your child is doing on the Internet at all times. You will feel confident knowing the Net Nanny is on your side.
I will be upfront and say that this monitoring app has not received great feedback there are better options out there. But don`t take my word for it, here is a screenshot of the iTunes ratings…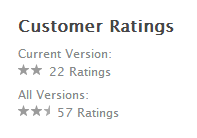 Net Nanny for iOS Overview
The Net Nanny for iOS is designed to help keep your children safe while they are using their iPhone, iPod Touch, and iPad. There are many inappropriate websites out there and knowing what your child is viewing or getting into will better help you approach the situation. Net Nanny for iOS is a program that allows kids to browse the Internet safely. This program will leave you feeling confident in what your children are viewing and you can rest easy at night knowing that they are not viewing inappropriate or mature websites.
That`s about it though, you do not get the many features that some of the other monitoring programs offer, see our feature comparison chart here. 
The comparison chart will give you an idea of the features available on the market and what you can expect to be able to monitor.
Benefits
There are many benefits to using a software monitoring program and many of those benefits tie in with the features as well.
You are able to control and block what your children have access to on the Internet. This allows you to be sure they are not able to get to content that is not age appropriate. You can also view any websites they visit and access deleted web history.
One of the many benefits of a monitoring service is that it records and logs everything that is performed on the Internet on the target phone. This means that if your child tries to go to a bad website but finds out they cannot and deletes the history, you can still see they tried to access the site.
Overall the biggest benefit you can receive is knowing that you are helping to keep your child safe while he or she is using their phone.
Net Nanny iOS Features
The Net Nanny for iOS has many features that are beneficial for your child's iphone when it comes to the internet and will help you monitor them with ease. Some of the features include:
Safe Search
Internet Filtering Software
Profanity Masking
Pornography Blocker
Social Media Monitoring
Time Management Tool
Remotely Control the Phone
Alerts
Predetermined User Profiles
Browser Settings – this browser replaces Safari

Landscape mode
Persistent cookies
Alternative searches
Pinch and zoom
URL browsing history
URL suggestions
Multiple tabs
Cut and paste
Bookmarks
Compatibility
Net Nanny for iOS is designed to run and operate on certain types of iphones and devices. This program supports any iOS version that is a 5.0 and above. This includes the following:
Any version of iPad
iPhone 3GS and anything higher
iPod Touch 3rd Generation and higher
If you have questions about whether or not Net Nanny will work on your device, you should contact the company directly and speak with them. They will be able to provide you with a comprehensive list and also any questions you have about your device.
Installation
The installation for the Net Nanny is simple and anyone can do it. You will need to make sure you have the target phone in hand. Once you have purchased the product, you will be given instructions and you can either watch a live demo of installation or you can read through a step by step guide to install the program.
Pros and Cons
There are always pros and cons of using a cell phone and Internet monitoring software. Consider them below.
Pros:
Protect your child
Block and prevent inappropriate sites
Block all pornography
View reports
Remote control of the phone
Web filtering
Affordable
Compatible with most devices
Cons:
Your child may find another way to view inappropriate material
You need to have the phone in hand to install
Not undetectable
The pros definitely outweigh the cons and will help combat inappropriate Internet surfing.
Support
Net Nanny for iOS offers many support avenues for self-help including a FAQs section, live demos, and specific instructions on how to set up your phone to utilize the features.
The company also lists their address online in case you need to send anything into the company.
Technical support is available if there is ever a problem and you can call them whenever needed. They can be reached Monday through Friday between the hours of 8am and 5pm Mountain time.
If you need to contact support and they are closed, you can easily send in a note and request that they call you back or ask for assistance.
They offer stellar customer service responses by reassuring customers that all requests submitted during business hours will be handled the same day.
Final Verdict for Net Nanny iOS
The final verdict on Net Nanny for iOS is ok. This is an ok software for anyone looking to monitor their child's Internet activity on their phone.
There are better options out there though. We suggest that you look at the monitoring software comparison chart here.
As a parent, you cannot always be everywhere your child is and a monitoring program will allow you to be just one step closer to that then before.
A few things that we do want to give them credit for is…
The company has a great support system and offers great customer service with their guaranteed turnaround times on requests. This is extremely important especially if you are having a problem with your software for some reason.
Net Nanny also has features that other providers do not offer such as pornography blocking and replacing Safari. This is beneficial in itself and will help you be better aware of what is going on.
Net Nanny for iOS is an ok program and it is better than not having a monitoring program at all, there are benefits by installing it on a child's phone.