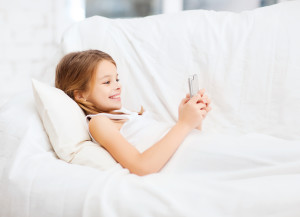 The NetNanny for iOS devices is a decent parental software on the market that provides good results.  Parents often wonder what's my child viewing on their ipod Touch, iPhone or iPad, but they do not have a way to get the answer.
Do you know if your child is looking at inappropriate materials on the web?  If you can't answer that question, then NetNanny for iOS might be the right product for you.  You should be aware of that are other proudcts that migh fill your needs. NetNanny will help you keep your kids safe from various dangers over the Internet though and protect them unwanted communication.  The software is considered a good solutions for kids to safely browse the Internet.
You can read our full review here!
What Does NetNanny for iOS Provide?
NetNanny for iOS provides trust, comfort and safety by protecting your family from online threats.  With the iOS software, you get features such as Internet filtering, profanity masking, safe search, browser settings, landscape mode and many more features.  You will also have the choice to provide alternatives searches using Google, Yahoo! and Bing.
The iOS feature also provides an online dashboard where you can find an overview of information along with statics and recent Alerts.  The alerts will notify you of potentially risky activities from a chosen time from the same day or you can chose a previous week or a few months back.  Another great feature for the software provides for iOS users is a great support system.
The helpdesk includes an extensive FAQ section with live demos and step-by-step instruction on how to set-up the program and use the many different features. For non-emergency issues or if you need to send something to the company, you can use their mailing address.  However, for urgent issues there is technical support that is available on the weekdays – Monday through Friday from 8:00 am to 5:00 pm on Mountain Time.  The support team prides themselves on answer all submitted request during business hours on the same day.
Finally, you can worry less about predators approaching your child via the Internet in order to eventually make an in-person contact.  This software will flag any friends who age in their profile is greatly different from their child.  The "ZoneAlarm" feature will also investigate his or her child current circles of mutual friends and flag anyone who may be socially incompatible.
How Does NetNanny for iOS Devices Keep Your Family Safe?
On the iOS, the NetNanny will check for new post and comments every fifteen minutes checking all social media content no what device your child is using.  The alert page provides you statistics on a range of date options while placing all of your child accounts into a single timeline.  The displayed information will show you Facebook posts, tweet, comments, likes, new friends and many other features.
NetNanny shows you over two dozen of the Facebook photos being posted by your child or has your child tagged along with a list of everyone else tagged in the photo.  The NetNanny for iOS keep your family safe by monitoring their activities from any web browser, putting all their information in one place no matter if your child is using a smartphone, tablet, or computer.
­­