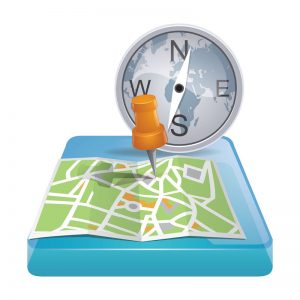 Gone are the days when you had to bring out a map to find your way around the city! It's 2017 and one of the best things about modern technology is that you have a personal map that fits right inside your pocket – your iPhone! There are a ton of navigational apps available in the App Store but not all of them do a fantastic job of helping you find your way.
In this article we'll be sharing with you what we think are some of the best navigational apps out there!
Never Get Lost Again with These iOS Navigation Apps
Waze
What's amazing about Waze is that not only is it a navigational app that helps you find your way but it's a community. The app connects Waze users to one another by taking note of the information they give. A good example of this is shown whenever there's an accident on the road – let us explain. Whenever there's an accident on the road, you'll be notified even before reaching the accident so you'll know what's causing the traffic. This is a great feature if you're on the road and you're rushing to that job interview you've been preparing for because it has the option to go an alternate route. Another awesome feature we'd like to share is that you can modify the voice of the app! A personal favorite of ours is the voice of Terry Crews. It's kind of intimidating but it's all fun!
Google Maps
This is another amazing navigational app for the iPhone because you can choose which mode of transport to use. It'll show you the fastest route on the road if you're driving and it'll also show you the fastest route if you decide to walk. It's really flexible especially if you're deciding whether you should take your car, ride the train, or just walk. It also has voice guided navigation which is incredibly helpful when you're driving and the app also provides weather information.
MotionX GPS
MotionX GPS was one of the earliest navigation apps to enter the market and since then it's proved to be a powerhouse. It shows a map of the current situation of the traffic so you know what it looks like and it's pretty customizable so that's a plus as well. It's simple and basic which is essentially everything you want in a navigational app.
MapMyHike
This is specifically for those who love the great outdoors. MapMyHike is designed for off-roaders such as people who love to go mountain biking or just driving out in the wild. It has maps specific to these activities and you can even log them to keep track of every activity you do! From what gear you're wearing to the activity itself, you can share it with the community. It's also compatible with tech gear like Fitbit and the like.
Never Get Lost
With these apps you'll never get lost no matter what city, what country, or what forest you're in! As we said, it's one of the best things about modern technology and you'll definitely be missing out if you don't have at least one of these apps on your iPhone! Hope you enjoyed the article, Never Get Lost Again with These iOS Navigation Apps.