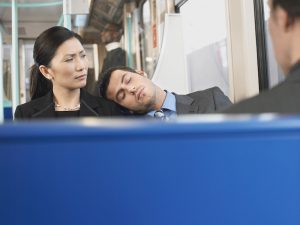 Ever had a moment when you were commuting and you missed your stop cuz you were either sleeping or you simply weren't aware? Yeah, we've all been there. Thankfully with the advancement of technology (thank you Tech gods), innovative apps have been put out to help us humans in almost any way possible. Even in scenarios like – you guessed it – missing your train stop.
Introducing, Alarm-Me by Prax-6! This free app is a location-based alarm that notifies you when you're close to your stop or destination. What's neat about this app is that it doesn't just use GPS but it also makes use of multiple location sources, which makes it work even when you're underground! Here's how it works.
Never Miss Your Stop Again With This Awesome Commuting App
Get Moving
The first step to making the most out of the app is to of course, download it on the Google Play Store (apologies to the iPhone users out there). Once the app's finished downloading, open it and make sure you give it access to the location of your device. Next, pick your destination by either putting a pin on the desired location or by typing it down.
Alarms by Radius and Location
When that's done, tap the icon on the lower-right portion of your screen to set a radius. This feature is especially handy since it gives you time to prepare in advance before arriving at your destination. Essentially, what it does is that it reminds you when you're about to arrive at your destination depending on how large or far you set the radius.
Moving on to the main feature of the app; setting location-based alarms. The app shows its flexibility here because when you create a location-based alarm, you can give it a name which saves it for future trips so you won't need to keep making new alarms. Cool, right? On top of that, you can also select a specific alarm ringtone or sound for different alarms!
When your alarm is set and you're good to go, you'll notice that a notification that informs you how far you've got left until you reach your destination. This is what's responsible for keeping the app open in the background so it'll remind you when you're near your destination. That's a good thing because we all want our alarms to ring when they're supposed to, right?
Moving Forward
Now that you've set up your alarm, you'll never have to worry about missing your stop again! If this hasn't happened to you trust us when we say you want to keep it that way. For those who have experienced missing a stop, there's nothing to be ashamed of because it happens to the best of us. At least you now know what to do! All you need to do is follow these steps and create your own personalized alarm. Just remember to use it before you doze off in the train!