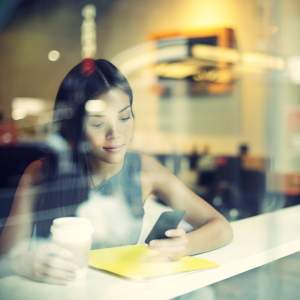 Starbucks have been running a trial service across the United States that allows you to order and pay for any food or drinks from Starbucks. The Starbucks app for iOS or Android allows you to use your smartphone to select your closest Starbucks store, place your order and pay, then collect it once it is ready.
Their app suggests the closest store based on the location detected, but you can choose an alternate store should you have a favorite. Featured products for individual stores are also highlighted and you are notified of upcoming launches.
The roll-out of Starbucks Mobile Order and Pay for iPhone and Android has been a huge success, with Starbucks' chief digital officer Adam Brotman stating "The fact that it also represents the fastest technology application rollout we have ever done is indicative of the strength of our digital ecosystem, how well it has been received by both our customers and store partners and the impact we think it can have on the future of retail."
Nationwide Adoption of Starbucks Mobile Payments
This great new delivery service from Starbucks is at the moment available from over 7,400 Starbucks stores across the US, although International support is on its way. Starbucks launched city-specific trials in recent months, all of which were highly successful, leading Starbucks to fully support mobile orders and payment in all their stores as of 22 September 2015.
Starbucks Mobile Order & Pay presents you a map from which you pick your store and place your order, you then are given the average waiting time before your meal and / or beverages are ready. Once ready your order will be awaiting collection in the bar area of your chosen Starbucks store.
In addition to the convenience, this new expansion has helped store efficiency. Starbucks stars are reported to have much shorter queues and staff efficiency is likely better as well. By being able to manage incoming orders before the customer is in the store a lot of pressure is taken off staff. A store full of hasty customers queuing out the door can place a lot of pressure on staff members, in turn dropping productivity.
Easy to Use Starbucks Mobile Order and Pay
Download Starbucks Mobile Order and Pay for iPhone or Android, but don't forget to sign-up for the MyStarbucks Rewards loyalty program. This loyalty program gives you a card used to redeem free food and drink rewards that you earn with points accumulated when purchasing from Starbucks, Teavana or La Boulance online, in-store or in-app.
It does not cost anything and realistically you may earn a free coffee once every two weeks, depending how addicted you are to coffee of course! It is easy and worthwhile, who wouldn't want a free drink after all? You earn Stars from your purchases which are then redeemed for your choice of food, product or beverage.
Mobile Order and Pay Coming to Canada & the U.K.
Starbucks Mobile Order & Pay functionality is soon to hit Starbucks stores across Canada and the U.K. as well, with plans set for a late October launch. Starbucks is relied upon by millions of caffeine-seekers across the US, this great new mobile functionality was well received, granting Starbucks regulars a way to skip the long queues, heading straight to the barrister instead, saving time and frustration.
Starbucks may be a pioneer amongst mobile payment support for fast food and drinks, but they are not the only large chain store to adopt smartphone payment. Android Pay is bringing this ease of use and security to Wall Mart, whilst Taco Bell have launched their own mobile app this also allows customers to order & pay via their mobile device and then later collect the food.