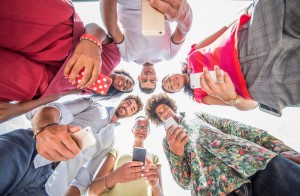 Apple has blessed us again with another iOS update! There's been a lot of buzz lately surrounding this update and we've joined the hype train by downloading it ourselves. While we recommend updating to iOS 11 as soon as possible, be sure that your iPhone can handle it.
If you're using any model below the iPhone 6 we highly recommend not updating since this may severely decrease the performance of your phone. Now that we have that out of the way, we'll be sharing with you iOS 11 features that are already our personal favorites!
Our 5 Favorite Features on iOS 11
1. Edit Your Screenshot
We all know that taking a screenshot with your iDevice is simple and easy. All you need to do is press the lock and home button together to take one and it'll automatically be sent to your Camera Roll. With iOS 11, it's a completely different story and it's for the better.
Now, whenever you take a screenshot it will be sent to the lower left corner of your screen where you can edit it freely. Tap on it then it expands which brings out editing tools like markers and the like so you can draw on it, highlight it, etc. What's even better is that you can take multiple screenshots and edit them at the same time. It's one of the handier features found in the update.
2. Control Center
This is probably one of the very first changes users will notice with the update. Control Center is a vital component in every iPhone and we're glad to see improvements were made. Asides from the visual overhaul, which is neat by the way, they've added a few functional changes. A personal favorite of ours is the ability to turn on and off your cellular data! Long gone are the days where you have to travel all the way to Settings just to turn on your data.
3. Dark Mode
If your iPhone's too bright for you when you're reading texts at night, then you'll be glad with the introduction of Dark Mode. It inverts the colors of white to black and vice versa! You're probably thinking that they did this before with Invert Colors and you're right but it'd just invert all the colors. With Smart Invert, it doesn't do that and instead just makes the traditional white menu of the iPhone to black, making it easier to read things at night. To make use of this, simply go to Invert Colors found in Settings and tap Smart Invert.
4. Type with Siri
For everyone familiar with using an iPhone, you'll know how Siri works –which is activating her through speech. If this is too much work for you, you'd be glad to know that you can now talk to Siri through typing! It makes things a whole lot more convenient and you can now avoid looking like a fool talking to your phone in public.
5. Sharing WiFi Passwords
Yes, you read that right. You won't need to be sharing long complicated passwords to your friends anymore! All you need to do is have one friend who is connected to the network you want to connect to (and is also using iOS 11) and have them share the password with you via a wireless connection. Simple, easy, and effective!
Enjoy the Update
There you have it, folks! These are the 5 new and upgraded features we love about iOS 11. Note that there are many more features that we haven't delved into so we highly encourage that you do some exploration of your own with your iPhone! Don't worry, it's fun!