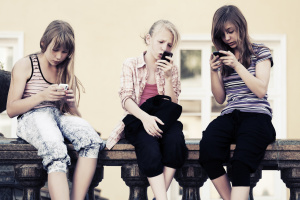 It's the wish of every parent to keep their kids safe on their Android. Monitor what the kids do with their smart devices, since it's hard to stop them from using gadgets, can be one way. There is a handful of parental monitoring software for Android which gives you control over what your kids are exposed to.
These apps help you monitor calls, texts, web activity and much more. In this post, I will introduce you to two monitoring apps you may like.
Qustodio
Qustodio comes from the latin word custodio, which means "to guard". It is another great parental monitoring and control app which like the others, lets you protect and manage your kids activities on their phones.
Web Content Filtering: Qustodio's smart internet filter scans your kids web activity in real time, blocking the dangerous ones which meet a set criteria.
Monitor Calls and Texts: With Qustodio, you can see who your child has been communicating with and then lets you decide whether who to communicate with or not.
Social Network Monitoring: Qustodio lets you monitor your child's social network activity websites like Facebook, Twitter and Google Plus.
Location Tracking: With Qustodio you can track your child's location in real time. In case of an emergency, your child send you an SOS by activating a panic button in the notification menu to alert you about where they are.
App Control: Qustodio lets you see and control your kids installed applications and also see usage statistics on those apps. You can also block certain applications from running.
Time Tracking: Qustodio helps you to set daily device usage limits and determine how much time your kids should spend online every day.
Pricing
Qustodio has a free 2-week trial after which you will have to buy the app in order to continue using it. Qustodio starts at $44.95/Year.
Net Nanny
Net Nanny is highly rated parental monitoring app which helps you protect your kids from pornography, cyberbullies and potential online predators. It has the best web filtering service I've seen so far.
Features
Internet Filter: Net Nanny checks the websites your child visits in real time and then allows or blocks the web page based on your set preferences. It filters web pages based on contextual terms and also blocks ads which are deemed inappropriate for your kids. Net Nanny has a reliable porn filter which blocks your kids from watching pornographic content online.
Time Management: Net Nanny proves that kids spend over 7 hours of their day online. This can really be a waste of time especially when they have to study and complete their assignments. With Net Nanny you can set specific times of the day when you want your child to use the Internet. During that period, your kid cannot access the Internet unless the parent allows that.
Social Network Protection: Net Nanny monitors the social networks your kids use. It may be Facebook, Instagram, Twitter, Pinterest, Tumblr, Google+, LinkedIn. Net Nanny allows parents to access their kids media, friends, and much more information all in a single dashboard.
Profanity Masking: With Net Nanny, your kids can browse the internet without seeing any vulgar language. When Profanity Mask is set up, and your kids visit a website with profane words, they will be replaced by special characters.
Pricing
Net Nanny is available for a free 14-Day trial and $10.39 a year.
What do you think of these apps? Share your experiences and reviews in the comment section below. For an in-depth review on these and many other parental monitoring apps, go to our top 7 monitoring software.